March 13, 2018
2018 Eisenhower Lecture announced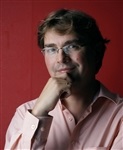 The history department announces the 2018 Eisenhower Lecture. This year's guest is David L.M. Onnekink, history professor at the University of Utrecht, Netherlands.
Onnekink will present "The Language of the Sea: The Artistic Representation of Early Modern Naval Battles," at 7 p.m. Monday, March 26, in the K-State Alumni Center banquet room. A reception with refreshments will begin at 6 p.m.
Onnekink studied at the Universities of Utrecht, York, and London before completing his doctoral thesis in 2004. He has been a fellow at the Institute of Advanced Studies in the Humanities in Edinburgh and at the Huntington Library. He is author or editor of various interesting works, such as "War and Religion after Westphalia, 1648-1713" and "Reinterpreting the Dutch Forty Years War, 1672-1713," 2016. In the United States, he has been a visiting professor at the University of California, Los Angeles, and the College of William and Mary, and he has been a visiting researcher at several locations.
Onnekink also will give the main lecture for the Parrish Colloquium on March 27.
Questions about this event can be directed to Donald Mrozek at mrozek@k-state.edu.