March 8, 2018
Vice President of Adobe Advertising Cloud Brett Wilson to give keynote lecture during K-State Launch event
Submitted by Brent Fritzemeier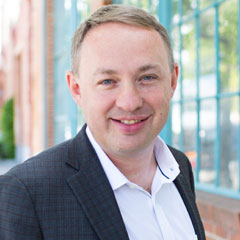 Vice President of Adobe Advertising Brett Wilson will serve as the keynote speaker for the K-State Launch competition at 4 p.m. Wednesday, March 14, in the College of Business Building Lecture Hall.
The lecture will cap off a day of activities surrounding K-State Launch, an entrepreneurial idea competition for K-State students with new venture ideas. The competition is open to all K-State undergraduate and graduate students or teams from all majors, with $6,000 in prize money up for grabs.
Wilson joined Adobe via the company's acquisition of TubeMogul, where he was co-founder and CEO. Along with his co-founder John Hughes, Wilson led TubeMogul through one of the top performing IPO's (NASDAQ: TUBE) of 2014 and a successful acquisition by Adobe in 2016 at one of the highest premiums ever paid for a public company. Wilson's emphasis on a values-driven culture and employees having a high "Do:Say Ratio" helped drive TubeMogul's growth and propel the company to win numerous awards, including Glassdoor's "Best Place to Work," Fortune magazine's "Top 100 Places to Work for Millennials" and Inc. magazine's "Founders 40."
In addition to being widely recognized as the innovation leader in its category, TubeMogul helped bring transparency and automation to the advertising industry during a tumultuous era. Wilson previously was co-founder and CEO of YouCanSave.com, an early e-commerce company, which was acquired by Thane International. He began his career as a technology consultant at Accenture.
A frequent speaker and commentator, Wilson's thoughts on entrepreneurship and leadership have been featured in The Wall Street Journal and The New York Times. He is an investor and advisor to many startups and is a board member of TubiTV and WeTravel. Wilson secured his Master of Business Administration at the University of California, Berkeley Haas School of Business, where he also is on the board of advisors.