March 2, 2018
Shanna Legleiter to receive CUPA-HR Midwest Region Outstanding Service Award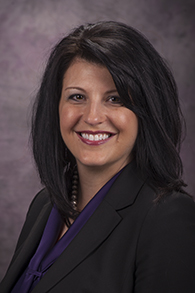 Shanna Legleiter, director of learning and development for Human Capital Services, has been selected by the Midwest Region of the College and University Professional Association for Human Resources, or CUPA-HR, to receive its Midwest Region Outstanding Service Award. Legleiter will be honored at the joint Midwest and Western Region CUPA-HR Spring Conference in Salt Lake City at the end of April.
This regional award is given to just one member who, over a period of time, has provided outstanding service and leadership to the Midwest Region through involvement in activities such as board office, councils, task forces, committees and/or teaching.
Legleiter currently serves as president of the CUPA-HR Kansas chapter board of directors. Her outstanding leadership was evident as the Kansas chapter hosted its annual conference at K-State in November 2017 with more than 100 participants from higher education institutions around the state. Her dedication to employee development and learning is equally matched by her skill, professionalism and outstanding knowledge. This award is well deserved.