March 2, 2018
Senior design team wins best paper award at power and energy event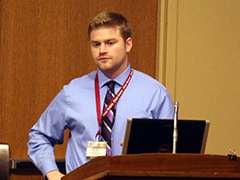 A senior design team from the Kansas State University department of electrical and computer engineering earned the Best Paper Award for its presentation at the 2018 Institute of Electrical and Electronics Engineers Texas Power and Energy Conference, Feb. 8-9, at Texas A&M University.
Team members Mitchell Easley — presenter for the group, Luke Haney and Jose Paul, won the award for their paper "Deep Neural Networks for Short-Term Load Forecasting in ERCOT System." The entirety of the work, including literature review, data converting, coding and debugging, case study design, numerical testing and writing of the paper, had been completed as part of the team's ECE 590 Senior Design Course last semester.
Instructor for the course was Kim Fowler, doctoral student in electrical and computer engineering. Hongyu Wu, assistant professor of electrical and computer engineering, served as faculty mentor for the team.