February 12, 2018
Kansas State University dance professor to receive $15,000 grant from the National Endowment for the Arts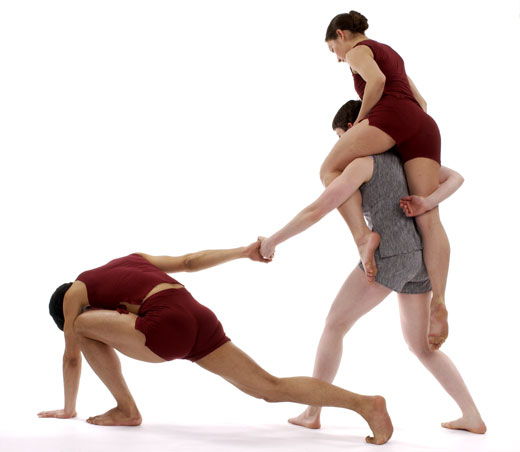 Kimberly Miller, Rick Vigo and Jes Shuford in a study of movement for "Search for Simurgh." Photo by Farnsworth/Blalock Photography

Is freedom really what we think it is? Can one person be free if others are not?
A $15,000, two-year National Endowment for the Arts Art Works grant will help Kate Digby, assistant professor of dance in the Kansas State University School of Music, Theatre, and Dance, explore these questions as she develops "Search for Simurgh," an immersive, interactive and interdisciplinary performance installation.
The project is in posthumous collaboration with, and in tribute to, artist and writer Roya Movafegh, who escaped Iran during the revolution and passed away after a brief battle with cancer in 2015. Movafegh's experience as a child refugee led her to question ideas of freedom in the West, and her experience with life-threatening illness prompted deeper exploration of the concept of freedom.
Digby often spoke with Movafegh about the disorientation she felt when she arrived in North America as a child and the inequalities and contradictions she observed in a "free" society. Movafegh channeled those ideas into her creative work.
"In 2010, Roya wove these concerns into a tale of mythological characters on a quest to save a dying forest, and we began exploring how to turn it into an interactive performance installation," Digby said.
The vision for the project is for audience members to enter the performance space and interact with dancers, touch-sensitive sculptural elements, and other digital media, including output from audience members' and dancers' autonomic nervous systems generated through the integration of biosensors. Using high-tech medical research equipment and knowledge from healing and artistic practices will create an aesthetic experience that engenders authenticity and empathy.
For assistance completing the project, Digby has turned to the research-creation collective Performance, Art, and Cyber-Interoceptive Systems, or PACIS, which aims to develop new and novel interfaces that integrate complex physiological data in performance and computational art contexts. PACIS collaborators on "Search for Simurgh" include playwright/director Erika Batdorf, pioneer of a technique that helps performers sense their own autonomic nervous system processes while performing; computational artist Mark-David Hosale; and applied-science artist Alan Macy, founder and R&D director of BIOPAC Systems, an equipment developer for life science research and education academic communities. Additional partners include story consultant/dramaturg Myriam Rafla and refugee advocate Omar Khan.
"It is an incredible gift to be working with artists, scientists and activists who are all committed to using technology to enhance connection and authenticity. By hooking up audience members and performers to biosensors measuring their heart rate and breath rate and then amplifying these signals through theatrical lighting and sound, we aim to bring the inner felt experience of individuals out into the communal space where it can be shared," Digby said.
Beth Montelone, senior associate vice president for research at K-State, said Digby's project received previous internal support from K-State and is an excellent example of collaboration across disciplines.
"Professor Digby's award leverages internal funding she has received from the Arts and Sciences Faculty Enhancement Program and the Office of Research and Sponsored Programs Faculty Development Awards. It is exciting, cutting-edge interdisciplinary work combining STEM and the arts," Montelone said.
Digby's work will also be supported by private donations through the KSU Foundation in memory of Movafegh.
The Art Works category is the NEA's largest funding category and supports projects that focus on the creation of art that meets the highest standards of excellence, public engagement with diverse and excellent art, lifelong learning in the arts, and/or the strengthening of communities through the arts. Read more about the projects recommended for funding in 2018.