February 12, 2018
Ford to present 'Designing for Resilience, Equity and Democracy'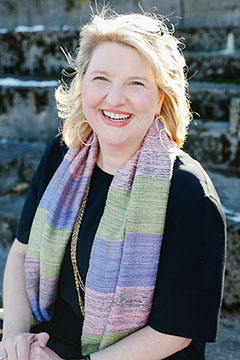 The College of Architecture, Planning & Design, or APDesign, will host Gina Ford, landscape architect, co-founder and principal of Agency Landscape + Planning, who will lecture as part of the Oscar S. Ekdahl Distinguished Lecture Series in Architecture and Design.
Ford will present "Designing for Resilience, Equity and Democracy" at 4:30 p.m. Wednesday, Feb. 28, in Regnier Forum, 1117 Regnier Hall. The lecture is free, open to the public and is sponsored in part by the K-State Governing Association's fine arts fee.

Underpinning her two decades of practice are a commitment to the design and planning of public places and the perpetuation of the value of landscape architecture via thought leadership, exhibitions, teaching, writing and lecturing.

Ford's work encompasses a wide range of scales and project types, from public parks and plazas to large-scale landscape planning and waterfront projects. She brings to each project a passion for the process of making vibrant landscape spaces — from the conceptual design to the details of implementation — with a particular focus on the life and use of urban, public environments.
Ford led the design of the Chicago Riverwalk, Boston's Lawn On D, Council Bluffs' Tom Hanafan River's Edge Park and Raleigh's Moore Square and strategic planning efforts including the Cedar Rapids Flood Recovery Planning, the Rebuild by Design Competition and the Changing Course Competition while a principal with Sasaki. Her work has received awards from the American Society of Landscape Architects, the American Planning Association and the American Institute of Architects, among others.
Ford is a fellow of the American Institute of Architects. She is on the board of directors for the Cultural Landscape Foundation and was the recipient of the Harvard Graduate School of Design's Charles Eliot Traveling Fellowship and Wellesley College's Shaw Fellowship.
The Oscar S. Ekdahl Distinguished Lecture Series in Architecture and Design brings the finest professionals in the design and planning disciplines to APDesign and the K-State community. These individuals are selected to avail faculty, staff, students and regional professionals to the potency of design and planning in addressing the issues we face as a global society. The series honors Oscar Ekdahl who received his Bachelor of Architecture from Kansas State University in 1933 and was a founding partner in Ekdahl, Davis, Depew, Persson Architects PA in Topeka.