February 9, 2018
Vice President for Student Life office announces University Success Center rebrand
Submitted by Stephanie J. Bannister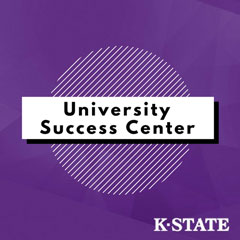 The centralized student resource building of Holton Hall has been rebranded as the University Success Center.
In January 2017, various departments from Student Life began meeting and dreaming about the potential of a center for students to experience K-State's student success initiatives. The center values collaboration with campus partners and believes that a unified campus effort can bring forward the best opportunities for student engagement and success.
The University Success Center is a collaboration of the following departments on the Manhattan campus:
Academic Achievement Center
Center for Advocacy, Response and Education
Educational Support Services
Holtz Hall Tutoring Center
K-State First
LGBT Resource Center
Office of Student Life
Student Access Center
Whether you are seeking to define academic goals, looking for a tutor, or needing a compassionate advocate, the University Success Center connects students to resources. The center seeks to support student success and welcomes collaboration with departments and programs across the university.
Follow the center on Twitter @KStateUSC, online or visit the physical home of the University Success Center in Holton Hall today.