January 18, 2018
Chief executive officer of International Interior Design Association to present at APDesign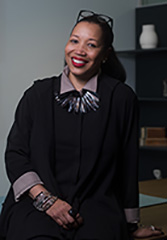 K-State's College of Architecture, Planning, & Design, or APDesign, will present Cheryl S. Durst, executive vice president and chief executive officer of the International Interior Design Association, as part of the 2018 Ekdahl Lecture Series at 4:30 p.m. Wednesday, Jan. 24, in the Regnier Forum of Regnier Hall.
Her lecture, "Design, culture, work + life: People, place and the future," is free and open to the public.
As an exceptional communicator, innovator and visionary leader, Durst has spurred progress, driven change and encouraged the expansion of the interior design industry. As the executive vice president and chief executive officer of the International Interior Design Association, or IIDA, Durst is committed to achieving broad recognition for the value of design and its significant role in society through both functionality and engagement in everyday work spaces and the built environment.
Durst joined IIDA as the senior director of education and professional development in 1997. Promoted to executive vice president and chief executive officer in 1998, she began the task of rebuilding and redefining the organization, which was teetering on the brink of bankruptcy and closure due to tenuous member relationships and organizational mismanagement. Despite these significant challenges, Durst implemented an aggressive fiscal redevelopment and turnaround strategy that incorporated a series of presentations, critical member outreach, and transparent communication efforts to earn back stakeholder trust. Through her efforts, she revived the association and repositioned it as a profitable enterprise, engaging 15,000 members across 58 countries — IIDA is integral to the commercial interior design community and dedicated to advancing the profession of interior design.
Durst oversees the strategic direction of IIDA, curates and publishes Perspective, the association's thought-leadership journal, leads the association's international board of directors and manages the IIDA professional staff, headquartered in Chicago.
She holds dual bachelor degrees in print journalism and economics from Boston University and is a LEED-accredited professional, or LEED AP. Durst's ability to engage audiences with insight and humor has positioned her as a sought-after keynote speaker, guest lecturer, panelist and moderator at both domestic and global conferences and seminars. She is a member of the World Future Society and firmly believes in the connection between place, history and human behavior, as well as the effect attitude, culture and design have on shared-space environments. Durst also is the creator and curator of the innovative IIDA series, "What Clients Want," which is an in-depth examination of the designer/client relationship.
In recognition of her contributions to IIDA and the profession of design, Durst was awarded an Honorary IIDA Fellowship by the International Board of Directors in 2009. In 2015 and 2017, she was named one of Newcity's Design 50, an annual list of influencers who promote and present design in Chicago. Durst has been referred to by Interior Design magazine as "an ambassador for innovation and expansion, and a visionary strategist." Durst was inducted into the prestigious Interior Design magazine Hall of Fame in 2016, as the first recipient of its Leadership Award.
The Oscar S. Ekdahl Distinguished Lecture Series in Architecture and Design brings the finest professionals in the design and planning disciplines to APDesign and the K-State community. These individuals are selected to avail faculty, staff, students and regional professionals to the potency of design and planning in addressing the issues we face as a global society. The series honors Oscar Ekdahl, who received his Bachelor of Architecture from K-State in 1933 and was a founding partner in Ekdahl, Davis, Depew, Persson Architects PA in Topeka.