December 11, 2017
Volunteer for Martin Luther King Jr. Day of Service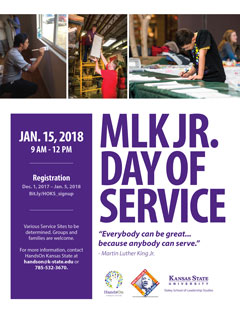 Join the Staley School of Leadership Studies, Kansas State University, and the surrounding Manhattan community for the Martin Luther King Jr. Day of Service on Monday, Jan. 15, 2018.
Volunteers will arrive at the Manhattan Town Center Mall from 9 a.m. to noon to be transported to various sites and assist with service work across the community. Preregistration is open to the public through Jan. 14. Onsite registration also is available from 8–8:45 a.m. Jan. 15 at the Manhattan Town Center Mall. Groups and families are welcome! Several of the service sites are still to be determined.
The Day of Service is recognized across the country in honor of King and is being led by the world's leading organization for volunteer work, Points of Light, and the Corporation for National and Community Service. Millions of Americans will come together for this day of national service and dialogue to honor his memory.
King called for all of us to be the beloved community we are and act in love and service. We invite you to volunteer your time and lend a hand in the Manhattan community.
Fill out the website form to register as an individual volunteer or contact HandsOn Kansas State at 785-532-3670 or handson@k-state.edu to register a volunteer group or to get more information.