December 11, 2017
Award-winning veterinary researcher seeks to take the pain out of cattle procedure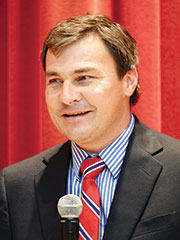 A calf's ear may be the best location for delivering a new vaccine with a dual purpose: relieving pain while also preventing unwanted pregnancies in cattle.
This approach was deemed sound enough to merit a $500,000 grant from the U.S. Department of Agriculture's National Institute of Food and Agriculture, or NIFA, for Hans Coetzee, head of anatomy and physiology in K-State's College of Veterinary Medicine and his collaborator, Doug Jones, a professor at Iowa State University.
Coetzee's career has long focused on finding ways to relieve pain in cattle, which has already resulted in national and international recognition earlier this year. In July, he was presented with the 2017 Animal Welfare award by the American Veterinary Medical Association. In August, he was invited South Korea where he was presented with the CEVA Global Animal Welfare Award by the World Veterinary Association.
In October, NIFA announced a list of 39 projects nationwide to receive funding through its Agriculture and Food Research Initiative program. The College of Veterinary Medicine was selected to receive more than $1.7 million in funding, including Coetzee's project, "Optimizing an Immunocastration Vaccine Ear Implant to Prevent Pain Associated with Bovine Castration."
"Our project will specifically work to optimize a long-lasting vaccine implanted under the skin of the ear to direct the calf's immune response to disrupt the development of the male reproductive organs," Coetzee said. "Knowledge gained from this proposal will address current animal welfare concerns and will have an immediate and significant impact on the sustainability of U.S. beef production systems."
Coetzee said that physical castration of male calves destined for beef production has been one of the most common livestock management practices performed in the United States, amounting to about 10 million procedures per year. Benefits include a reduction in unwanted pregnancies, improved meat quality and fewer injuries in confinement operations.
"Pain experienced during physical castration is a significant animal welfare concern," Coetzee said. "It is therefore critical for livestock producers to develop practical and cost-effective strategies to reduce the negative impact of surgical castration on beef cattle welfare and production. The long-term goal of our research group is to improve animal welfare through the development of practical strategies to alleviate pain associated with castration."
In collaboration with researchers affiliated with the Nanovaccine Institute at Iowa State University, Coetzee's research group has already developed a prototype of an implant that reduces testicular development in calves, but wants to determine the impact of age on the ability of the vaccine implant to produce effective immunocastration in calves throughout the production cycle.
"Our hypothesis is that the implant will be effective regardless whether it is administered to newborn calves, weaned calves or yearling calves," Coetzee said. "We believe this research will deliver a technology that can eliminate pain associated with castration in cattle regardless of when the immunocastration implant is administered during the production cycle."
This research will be supported by the Agriculture and Food Research Initiative Competitive Grant No. 2017-67015-27124 from the USDA National Institute of Food and Agriculture.