December 1, 2017
APDesign students, faculty member present at international conference in Spain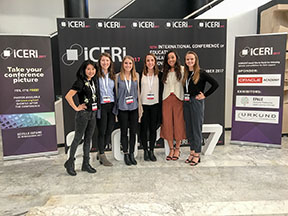 Six graduate students — representing the interior architecture & product design department in the College of Architecture, Planning & Design, or APDesign — and Vibha Jani, associate professor, presented at the 10th International Conference on Education, Research and Innovation Nov. 16-18 in Seville, Spain.
"I'm pleased to see students from our program in interior architecture & product design once again show the potency of collaborative design research at the international level," said Tim de Noble, college dean.
Students collaborated to prepare research papers for their design research course taught by Jani in fall 2016. Jani had challenged the class to investigate how students use informal learning environments at institutes of higher learning. This subject resulted in four papers and two posters being accepted for publication and presentation at the conference.
"I am very proud of Professor Jani and our students," said Nathan Howe, department head for interior architecture & product design. "The design research course is a critical component of our curriculum to prepare our students to become design innovators. The success our students are having in presenting their research at international conferences is just one more validation of the strength of our educational model."
Zijun "Sunny" Zhao, Kansas City, Missouri, presented the paper, "Influences of informal collaborative learning environments on the learning outcomes of students." Co-authored include Sloan Satterlee, Manhattan; Craig Farmer, Russell; and Malia Young, Salina.
Hana Robinson, Newton; Whitney Allen, Kansas City, Missouri; Natalie Hill, Riverside, Missouri; and Abigail Reese, Springfield, Missouri, presented the paper "Assessing millennial student dependability on technology within higher education collaborative environments."
Hannah Gwartney, Alexandria, Missouri, presented the poster "Anthropometrics and ergonomics in correlation to effective informal learning environments." Gwartney collaborated with Molly Gardner, Wichita; Madeline Appel, Denver, Colorado; and Jamie Causey, Littleton, Colorado, to prepare this research poster.
Jani presented her paper "Developing informal learning environments of tomorrow for institutes of higher education."
The International Conference on Education, Research and Innovation is one of the largest international education conferences for educators, researchers, technologists and professionals with more than 700 experts from 80 countries presenting their research projects.