October 31, 2017
Order a tax-deductible tree for K-State
Submitted by Division of Communications and Marketing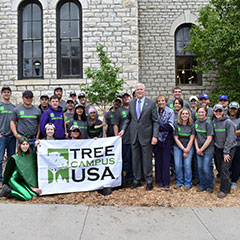 Fall is the perfect time to grow the number of trees at Kansas State University, help a community service organization and receive tax benefits by donating a tree.
The university, the K-State Alumni Association, Kansas State University Foundation, Manhattan Rotary and Manhattan Konza Rotary are partnering to plant trees on the university's Manhattan campus.
The two local Rotary Clubs are meeting a Rotary International challenge to plant one tree per each Rotarian and approached the university as a site to plant trees. The K-State Alumni Association and KSU Foundation purchased the first two trees to help kick-start the program.
"I hope we plant trees where the shade and beauty benefit as many students as possible," said Rod Harms, president of Manhattan Konza Rotary.
K-State has been designated by the Arbor Day Foundation as a Tree Campus USA since 2013.
New trees are needed at K-State because of the anticipated arrival of the emerald ash borer, a pest that may decimate about 225 ash trees on campus in the next few years, said Mark Taussig, project manager for campus planning and project management. K-State also loses 25-50 trees per year due to old age and a variety of environmental conditions and pathogens.
"Because of these challenges, we would be thrilled to partner with K-State faculty, staff, alumni and friends to plant new trees on campus," Taussig said.
The Greater Manhattan Community Foundation is collecting donations for the tree project. You may donate to the K-State/Rotary Tree Partnership online. Trees cost between $100-$200 each, and all donation amounts are accepted.