October 26, 2017
Beach Museum of Art presents screening of 'Dark Progressivism,' a film on Los Angeles art forms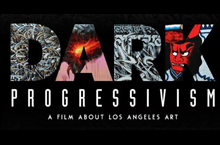 Join Marianna Kistler Beach Museum of Art for a film screening of "Dark Progressivism" at 5:30 p.m. Thursday, Oct. 26, in 101 Thompson Hall.
Director/producer Rodrigo Ribera d'Ebre will present his documentary "Dark Progressivism," which tells the story of how Los Angeles art forms — graffiti, street art, tattoo art — evolved from the streets and the social conditions of the city. The film addresses the influence of street gangs on these arts and introduces some of the artists who work in this medium. Ribera d'Ebre also wrote "Urban Politics: The Political Culture of Sur 13 Gangs" and will offer copies of his book for purchase after the screening.
Watch a trailer for the film online.
This program is in conjunction with the exhibition "Ubiquitous: Enrico Isamu Ōyama" on view through Dec. 23.