October 26, 2017
Tushabe wa Tushabe to present second American Ethnic Studies Showcase lecture
Submitted by Yolanda Broyles-Gonzalez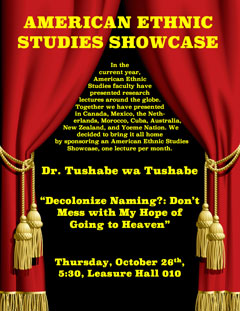 Tushabe wa Tushabe, associate professor of American ethnic studies, will present the second American Ethnic Studies Showcase lecture at 5:30 p.m. Thursday, Oct. 26, in 10 Leasure Hall.
The lecture topic is "Decolonize Naming?: Don't Mess with My Hope of Going to Heaven." In this lecture, Tushabe explores how colonization has changed rituals of naming and meanings of names, while also exploring avenues of decolonization.
In the current year, American ethnic studies faculty have presented research lectures around the globe — in Canada, Mexico, Cuba, Australia, New Zealand, Morocco, Cuba and Yoeme Nation. This lecture series brings it all home, one lecture per month. The lectures are reworked to make them highly accessible to students.