October 20, 2017
First weekly LiveSafe winner announced
Submitted by Stephanie Jacques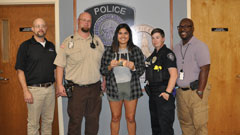 April Aranda, freshman in interior design, is the first weekly winner of the LiveSafe contest that is running through Oct. 28. As a weekly winner, Aranda received gift cards to Einstein Bros. Bagels in Hale Library and the K-State Student Union. All weekly winners are eligible to still win the iPad.
There is still time to enter and be eligible for the Oct. 20 weekly drawing and the Nov. 3 grand prize, an iPad, donated by LiveSafe. Download the free app and follow the instructions from the Oct. 9 K-State Today article. Then go find a K-State police officer or a blue campus emergency light and submit a "tip" to enter the contest.
In addition to connecting with campus safety officials, LiveSafe has many additional safety features including access to safety maps, emergency contacts, and peer-to-peer location tracking with group chat so friends can monitor and talk to each other as they travel the campus.
Also learn about other safety resources such as K-State Alerts, to stay notified by the university of emergency situations or campus closures.