News and Events
Call for applications to the 2015-2016 class of Risk Management Student Fellows
Applications are now being accepted for the 2015‐16 class of Risk Management Student Fellows. The application deadline is September 12, 2014. The Student Fellow program provides a foundation for undergraduate and graduate students to gain hands‐on risk management skills and knowledge.
Students accepted to the program will receive fellowship stipends for three semesters. Target students include anyone interested in risk management with three semesters left in their program including graduate students as of Spring 2015 semester. The program has high expectations for student academic performance as well as risk management interest and engagement, so we will be selective in reviewing applicants.
Applications should include a resume, a statement of career objectives, and contact information for two or more academic references. Send resume, reference list, and career objective statement via email attachments to Ted Schroeder, tcs@ksu.edu by September 12, 2014 (he will confirm receipt of your application via email reply). Contact Ted Schroeder, Waters Hall 219, if you have questions.
Read this document for more information.
---
Teaching students to turn risk into opportunities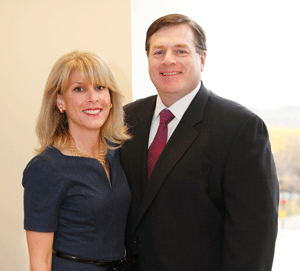 Providing opportunities for K-State students and helping them develop into tomorrow's leaders are goals of Greg and Mamie Case, Winnetka, Illinois. They've donated more than $1 million to K-State's Center for Risk Management Education and Research (CRMER) to create the Greg and Mamie Case Integrated Risk Management Endowment.
The center engages students, both undergraduate and graduate, and industry partners in innovative education and research, advancing their risk management skills and knowledge. The center is a joint effort of faculty and students from K-State's Colleges of Agriculture, Business Administration, Engineering, and Arts and Sciences. Additional partners from across campus also participate.
"By supporting the Center for Risk Management Education and Research, we can create opportunities for interested students to learn that risk is opportunity, that businesses can achieve their desire for predictability by understanding risk and how it will impact their organizations," said Greg Case, K-State alumnus and president and CEO of Aon, a global risk management and HR solutions firm. "Gaining this perspective through the center will allow those students to understand that the challenges associated with managing risk are enormous, but the organizations that confront risk head on will stand to make tremendous gains for their stakeholders.
The funds from this endowed gift will be used for student fellowships, student educational experiences, program development, faculty support and other needs determined by the center's director.
"I hope this gift can, in some small way, elevate the discussion around risk management," Case said. "With the growing presence of non-traditional risks such as cyber risk, pandemic risk and social media risk, it is important that we have a strong national dialogue, not only in board rooms but on college campuses, on what we need to do to address these challenges because of the impact they and other such risks can have on our global economy."
Written by Marisa Larson, KSU Foundation
---
"Beefing Up Your Future" to be Presented at K-State April 28: Lee Borck will give a presentation on the pathway to entrepreneurial success
April 10, 2014 – Looking to bridge the gap between agriculture and consumers, the Kansas State University student organization, Food for Thought, presents the Upson Lecture Series on Monday, April 28, at 7 p.m. This edition of the lecture series will host Kansas State University alumnus and entrepreneur Lee Borck. He will address the K-State and Manhattan communities in Frick Auditorium, located in Mosier Hall of the College of Veterinary Medicine: http://www.k-state.edu/maps/.
Borck will focus his message on challenges facing young people today and how agriculture played a role in his success as an entrepreneur. "Beefing Up Your Future" will be free and open to the public.
A 1970 graduate of K-State, Borck earned a degree in agricultural economics. He has served as president of the Kansas Livestock Association and a member of the board of directors for the K-State Foundation. Along with his heavy involvement with K-State and agriculture, he also is in such business ventures as American State Bank in Great Bend, Kan.
Through his endeavors, Borck has come to understand the importance of hard work, building strong personal relationships and maintaining an entrepreneurial spirit. This lecture will focus on being successful in these three attributes, as well as the importance of agriculture in his career. His message relates to students, faculty and community members, whether they are striving for success in future careers or determining their next business ventures.
The Upson Lecture Series honors Dan Upson, who taught at K-State's College of Veterinary medicine for 35 years before retiring in 1994.
For more information on Food for Thought visit: www.bloggingfoodforthought.blogspot.com or http://www.facebook.com/fftgroup.
---
Borck presented Stockman of the Year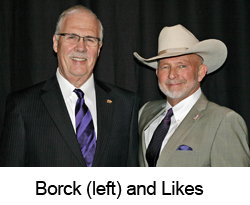 The Livestock and Meat Industry Council at Kansas State University honored cattle feeder and past KLA President Lee Borck of Manhattan as Stockman of the Year during a dinner last night (3/6) in Manhattan. More than 250 livestock producers and university officials were on hand to hear tributes to Borck from Beef Marketing Group (BMG) Chief Executive Officer John Butler, CattleFax Executive Vice President Randy Blach, K-State Alumni Association Chief Executive Officer Amy Button Renz and Knight Feedlot owner and past KLA President Kenny Knight. KLA Executive Vice President Dee Likes served as master of ceremonies.
Borck remains chairman of BMG, which has a one-time feeding capacity of 300,000 head. He also is the president and a partner in Innovative Livestock Services, a venture capital company that owns feedyards.
He has held volunteer leadership positions at K-State in the College of Agriculture, Alumni Association, Athletic Department and College of Veterinary Medicine. Borck is chairman of the Kansas 4-H Foundation and is a current board member of the Kansas Bioscience Authority.
The Blue Rapids native is a member of the Cattle Feeders Hall of Fame. He also won the National Cattlemen's Foundation Vision Award in 2009.
View this and other news from the Kansas Livestock Association at http://www.kla.org/webstoryarchive.aspx.
---
Student from Satanta earns College of Business Administration's Outstanding Senior Award
December 18, 2013 - When it comes to dedication and involvement at the Kansas State University College of Business Administration, Kendal Clawson is at the head of his class.
Clawson, a December 2013 bachelor's graduate in finance and agricultural economics, is the recipient of the college's fall 2013 Outstanding Senior Award. Clawson, Satanta, was recognized at the college's commencement ceremony Dec. 14 on the Manhattan campus.
The award is based on service contributions students have made to the college as an undergraduate, including involvement in the college, engagement in the university community and personal academic success. A committee from the college dean's Student Advisory Council selects the recipient.
"Kendal has a been a great student of extremely high character who has made significant contributions to the college's key initiatives," said Scott Hendrix, finance instructor, Gates Capital Management faculty fellow, Edgerley outstanding instructor fellow and adviser to the Kansas State University Student Finance Association.
"He's been a great representative of the college in his many dealings with finance professionals, employers and alumni on campus and during many college trips in the United States and abroad," Hendrix said. "Whenever the college or a fellow student has had a need, Kendal has always stepped in to help in a selfless way and I'm thrilled to that he is being recognized."
Clawson has been actively involved in the college, serving as the information technology chair for the Student Finance Association, student senator for the College of Agriculture, president of the Financial Management Association and a part of the first Student Fellows class for the university's Center for Risk Management Research and Education.
He has represented the university in sales and marketing competitions across the country, and was a member of the team that made it to regionals at the Chartered Financial Analyst Institute Research Challenge in Toronto, Ontario, Canada.
"The CFA Research Challenge was one of my most memorable experiences at K-State," Clawson said. "I was able to work with three other individuals, all smart. Being surrounded by them helped me focus more on finance, pick up on details that I was missing and applying what we learn in the class. Application makes everything more fun and enjoyable."
During his time at the university, Clawson has participated in several study abroad programs, including faculty-led trips to London, Paris, Munich and Dublin. He completed internships with Koch Industries Inc. in Wichita and at Western Bank in Garden City.
Clawson recently took the level 1 Charter Financial Analyst test and is considering applying to Master of Business Administration programs at a later time.
The son of Kenby and Lana Clawson, Satanta, Clawson will join Koch Pipeline as a market analyst.
---
K-State Center for Risk Management Education and Research Announces Student Fellows
November 11, 2013 - The Kansas State University Center for Risk Management Education and Research has announced its second class of student fellows.
The center seeks to enhance the understanding of economic risks inherent in our global society through world-class experiential education and research.
The 17 students selected for this class include:
Logan Britton, Agricultural Economics, Agricultural Communications and Journalism - Bartlett, Kan.
Kurtis Clawson, Agricultural Economics, Agronomy – Satanta, Kan.
Kassie Curran, Food Science, Agricultural Economics – Farlington, Kan.
William Damme-Longinaker, Agricultural Economics – Randolph, Iowa
Joseph Dasenbrock, Economics, Psychology – Cimarron, Kan.
Ethan Dhuyvetter, Marketing – Manhattan, Kan.
Thomas Einck, Finance – Marion, S.D.
MaryLynn Griebel, Industrial and Manufacturing Systems Engineering – Stockton, Kan.
Jonathan Higgins, Finance, Accounting – Lenexa, Kan.
Shelby Hill, Agricultural Economics, Animal Science and Industry, and earning a master's degree in Agricultural Economics – Satanta, Kan.
Gerald Mashange, Finance and Economics – Bulawayo, Zimbabwe
Mario Ortez, Agribusiness, and earning a master's degree in Agricultural Economics, Nicaragua
Laura Rogers, bachelor's in and earning a master's degree in Industrial and Manufacturing Systems Engineering – Clyde, Kan.
Nathan Stinson, Agricultural Economics – Allen, Kan.
Jason Troendle, Agricultural Economics – St. Charles, Minn.
Lacey Ward, Agribusiness, and earning a master's degree in Agricultural Economics, Superior, Neb.
Nicholas Wineinger, Agribusiness – Lincoln, Kan.
"We had a phenomenal slate of immensely talented and diverse applicants and the selection process was difficult," said Ted Schroeder, director of the center and professor in the Department of Agricultural Economics. "A lot of things happen with the center including guest lectures, industry visits, student research projects, and tremendous interest from industry leaders in this program. New contacts between industry and the center occur almost daily."
By providing students and business professionals with the information and tools necessary to identify, quantify and manage risk, the center complements K-State's strategic plan. Additionally, the center supports the greater university mission of advancing the well-being of the state of Kansas, the U.S. and the international community.
Click here to see the blog site with posts from the current class of Student Fellows.
---
Click here to view the Events section
Training students to manage a world of risk
September 11, 2013 - Risk is a factor in any industry, and a new program is preparing Kansas State University graduates to manage that. The Center for Risk Management Education and Research (CRMER) began with funding gifts from two corporations – Innovative Livestock Services and The Gavilon Group.
"The thought process was that this is good for the students because there will be lots of job offers out there," said Lee Borck, chairman of Innovative Livestock Services. "But it's good for K-State because it's one of the top institutions where employers can come to find students who have been schooled in risk management."
Each fall, CRMER welcomes qualified applicants at junior level or above from agriculture, engineering or business administration programs on campus. Upon acceptance, fellows learn risk management through hands-on research and education, internships, travel and discussion with business and industry leaders.
The center, led by Ted Schroeder, analyzes everything from market risk to reputation risk to product quality and safety risk. By investing in risk management information technology, the center gives students in-depth experience with risk management platforms being used in industry.
"When they enter industry they have a rich and broad background in the complex area of risk management," Schroeder said. In an increasingly diverse and complex risk-prone world, CRMER is "the right program at the right time," said Ed Prosser, vice president of agricultural trading for The Gavilon Group.
"What companies need to plan for and protect themselves against today didn't exist five or 10 years ago or weren't as magnified as they are now," Prosser said. "K-State has taken risk management studies to a new level—graduates will be highly sought after for their applied learning in risk management and research."
Article written by the Kansas State University Foundation.
---
Center for Risk Management Education and Research seeking Student Fellowship applications
September 4, 2013 – Ted Schroeder, director of the Center for Risk Management Education and Research (CRMER), has announced the call for CRMER Student Fellows. Applications are due by October 4. The new class will begin the program January 2014.
"We want talented students, who will be engaged and are interested in risk management," Schroeder said. "These students should have approximately 3 semesters left in their studies at Kansas State University."
This opportunity is open to students majoring in Agricultural Economics, Agribusiness, Finance, Industrial Engineering, or other departments partnering with CRMER (others will be considered on an individual basis). Further details regarding qualification requirements are in the announcement.
Schroeder provides a summary of what the current class of 9 students have accomplished during the past year.
We made visits last spring to Aon, Koch Industries, CME Group, Frontier Farm Credit and had numerous guest lectures from a variety of industry affiliated risk management folks (learn more at our blog site at http://crmerstudents.wordpress.com/).
All Student Fellows completed risk management internships and/or graduate risk research this past summer.
Student fellows launch their industry partner risk management research projects this week (we have three very interesting projects the students are working on, each with a different industry partner and faculty mentor).
Student Fellows and partners of the Center are looking forward to the upcoming events and opportunities for this fall semester and beyond.
Interested students are welcome to submit materials as requested in the announcement, or any questions, to Schroeder at tcs@ksu.edu by October 4, 2013.
---
Vice president of Gavilon Grain visits with Student Fellows
September 4, 2013 - Greg Konsor, vice president, Gavilon Grain, LLC, met with the Center for Risk Management Education and Research (CRMER) Student Fellows August 30. Konsor also guest lectured for our Agribusiness Logistics course.
In addition to enjoying lunch with the Fellows, Konsor discussed "Ethics and Risk Management" where he highlighted the process Gavilon follows in managing their risks. He emphasized that risk provides immense opportunity, so it is something Gavilon thrives upon with proper management.
In his presentation, Konsor emphasized the importance of ethical behavior and adherence to a disciplined approach in managing risk in today's complex global market environment. He also illustrated several recent cases where risk management principles were violated and resulted in catastrophic outcomes.
Gavilon is an Executive Founding Partner of the CRMER and they have been instrumental in providing educational opportunities as well as generous financial support for the Center.
---
CRMER Student Fellows meet with Greg Case
March 14, 2013 - The Student Fellows of the Center for Risk Management Education and Research (CRMER) met with Greg Case, president and chief executive officer of Aon and alumnus of K-State.
In addition to this meeting with the Student Fellows, Case presented to a public forum of the K-State University community.
During the student's meeting, Case shared his thoughts regarding keys to a successful career and discussed the broad array of risk management tools and support being developed and offered to more than 120 countries around the world by Aon.
Case complimented the integrated risk management program being offered by the CRMER, citing it as a unique program addressing a very apparent need in the risk management field.
---
Koch Industries opens doors to Student Fellows
March 14, 2013 - The Student Fellows of the Center for Risk Management Education and Research (CRMER) visited Koch Industries, Inc. in Wichita, Kan. on March 8, 2013. They met with Dan Solomon, chief risk officer; Jeff Parke, senior director of risk management; Steve Packebush, president Koch Nitrogen and K-State alumnus; Marty Albright, vice president strategic planning and business development and K-State alumnus; and Don Weaver, chief risk officer Koch Fertilizer. The students also enjoyed a luncheon discussion with several other risk managers from Koch.
The Student Fellows learned about the multi-dimensional complexity of managing risk at Koch Industries. Experiencing Koch's market-based management and the continuous emphasis on "optionality" by Koch highlighted the day-long event. They also became aware of how important it is to determine the risk potential of alternative investments and not to dwell on occasional losses that will inevitably occur in risky ventures. The key risk management issue was not having large adverse surprises. Special emphasis on Koch Nitrogen company growth, challenges, opportunities and risk management were also discussed.
---
Students compete in national Commodity Trading Challenge
March 7, 2013 - Students from K-State's Center for Risk Management Education and Research (CRMER) recently competed in the CME Group's Commodity Trading Challenge.
The three teams included CRMER student fellows and agricultural economic graduate students Claire Luensmann, Marcus Brix and Garrett Lister; CRMER student fellows and agricultural economics undergraduate students Jeff Cather, Kendal Clawson (also majoring in finance), Kellie Jackson and Eric Zinke (industrial and manufacturing systems engineering); and College of Agriculture undergraduate students Arthur DeOrnellas, Calyssa Thomas (both animal sciences and industry), and Caleb Wurth (feed science and management).
The Challenge is a complimentary four-week electronic trading competition where teams of undergraduate and graduate students can trade Crude Oil, Gold and Corn Futures in a simulated trading environment on a real-time professional trading platform provided by CQG.
This is an annual event and the number of schools that participate has grown each year - with 90 schools from 6 countries and over 160 teams competing in 2012. The Commodity Trading Challenge is a unique chance for students to learn hands on techniques for trading futures.
Competition Dates for the practice round were Feb. 4 – 12, 2013 and the Preliminary Round was held Feb. 12 – 28, 2013.
For more information about the Challenge, click here.
---
K-State's AgManager.info announces crop insurance webinar
March 7, 2013 - Art Barnaby, professor of K-State's Department of Agricultural Economics will host a webinar to explain the writing of covered options to reduce the risk management cost for a farmer. The Revenue Protection (RP) contract contains a Yield-Adjusted Asian Put (YAA) and Yield Adjusted Asian Call option derivatives.
The webinar will be Tuesday, March 12, 2013 from 12:00 - 1:00 p.m. CST. There is a $25 registration fee. Registrants will receive a PDF file of the presentation included in the webinar. Registrants will also be able to type in questions during the webinar to be answered by Barnaby.
Farmers, insurance agents, agricultural lenders and other interested parties are encouraged to register. To register for this one-hour webinar on selling RP covered options, click here .
For more information, visit the AgManager.info site at http://www.agmanager.info/events/Webinars/default.asp or contact Rich Llewelyn at rvl@ksu.edu or 785-532-1504.
---
Use the following links to read more news and events from the Department of Agricultural Economics | Department of Industrial and Manufacturing Systems Engineering | Department of Finance | Department of Grain Science and Industry | Department of Communications and Agricultural Education | Department of Food Science | Department of Psychological Sciences | Department of Accounting | Department of Animal Science
---
EVENTS
Click here to view K-State's Academic Calendar
Click here to view the complete list of event categories from the AgManager.info page.
For a complete list of K-State Research and Extension events, click here.