October 13, 2017
Kansas State Polytechnic announces student ambassadors for 2017-2018 academic year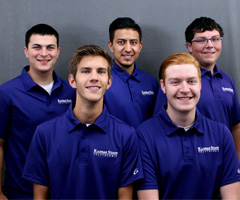 The Kansas State University Polytechnic Campus has selected five new Wildcats to serve as student ambassadors during the 2017-2018 academic year.
Ambassadors attend a variety of on-campus, community-based and industry events to give their personal perspective on the student experience as well as promote campus offerings and purple pride in general.
Undergraduates named as student ambassadors include JT Brantley, senior in mechanical engineering technology, Abilene; Clayton Bettenbrock, sophomore in mechanical engineering technology, Geneseo; Logan Renz, junior in UAS flight and operations, Hays; Juan Diaz, senior in professional pilot, Salina; and Colton Linenberger, senior in computer systems technology, Washington.
"Congratulations to the students who are embarking on a new and exciting journey as student ambassadors of the Polytechnic Campus," said Verna Fitzsimmons, CEO and dean of Kansas State Polytechnic. "Your service as a campus representative is vital to expanding our brand recognition, continuing to educate the public about our applied learning style and cultivating new academic connections. It is also a great opportunity for you to build communication skills and add to your professional resume. I hope you enjoy this experience and I look forward to working with you throughout the year."
Student ambassadors engage with a diverse audience, including children, prospective students, government leaders, industry executives and business owners, and community members. Their duties range from campus tours and K-12 school presentations to assistance with university activities and attendance at civic organization events.
In order to be considered for the position, students are nominated by faculty or staff, submit an application and successfully complete an interview with the designated search committee. Prior leadership experience, current and prospective student engagement and involvement in campus activities are all determining factors during the selection process.