Robinson family selected as Kansas State University's 2017 Family of the Year
Friday, Oct. 13, 2017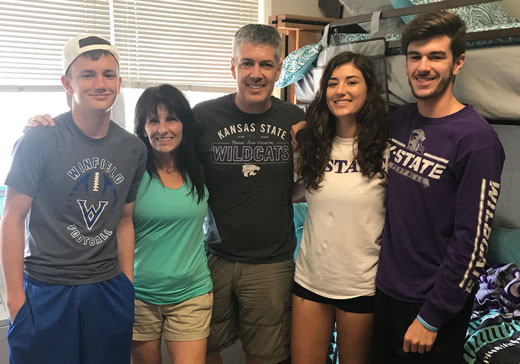 Stacey Robinson Harper, second from left, and her family celebrate their Wildcat pride at Kansas State University's fall 2017 move-in day.


MANHATTAN — The Robinson family has been a part of Kansas State University's history since the 1930s and now their legacy is being formally recognized.

The Robinsons will be honored as the university's 2017 Family of the Year at the football game against Texas Christian University as part of Family Day activities on Saturday, Oct. 14.

The family's history at Kansas State University began when Jean Underwood Robinson attended the university in the 1930s after her father, Grover Cleveland "Cleve" Underwood, paid for her tuition by quarrying limestone for fencing around campus. Underwood Robinson also was the university's first football homecoming queen in 1936. Four generations of the family have attended Kansas State University to date.

"The Robinson family had a very hands-on experience with the university, which really stuck out to the members of Chimes Junior Honorary," said Tessa Davids, junior in construction science and management, Spring Hill, and Chimes vice president of event planning. "The fact that the great-grandfather paid for his daughter's tuition by actually helping to build the campus as we know it today gave the family a unique connection to the university."

Chimes selects the university's Family of the Year based on three criteria: how the family is affiliated with the university; the way family members show loyalty and pride in the university; and how they define family and fit the description.

"This award is such an honor for our family," said Stacey Robinson Harper, Winfield, a 1991 Kansas State University graduate who nominated her family for the award. "The Robinsons feel an enormous amount of pride in knowing that we have been a part of the Kansas State University tradition for so many years."

Mike Robinson, a 1967 graduate, was a contributor and sports editor for Kansas State University's student newspaper, The Collegian. Several other members of the Robinson family also have attended or graduated from Kansas State University over the past 40 years. Three family members are alumni of Chi Omega sorority and great-granddaughter Sarah Caitlin Harper, a freshman in pre-journalism and mass communications, is a current member.

Family members also share their purple pride through a unique tradition at Christmas.

"Each time a Kansas State University-themed gift is opened at Christmas, we all break out into the fight song, 'Wildcat Victory,'" Robinson Harper said. "Our legacy and pride are supporting Kansas State University and cheering on the 'Cats!"

The following members of the Robinson family will accept the Family of the Year award on Oct. 14:

Blake, '06, and Rebecca, '09, Robinson, Manhattan.

Mike, '67, and Lynda Robinson, Mulvane.

Whitney, '08, and Neil Bleish, Overland Park.

Craig, '76, and Dena, '76, Robinson, Wichita.

Mike and Stacey, '91, Harper, and their children Jacob; Sarah Cait, freshman in pre-journalism and mass communications; and Aidan, Winfield.
Sandi Robinson Lawrence, Scottsdale, Arizona

From Raymore, Missouri: Don and Sandra Bradley; and Sarah, '00-'04, '06 and '08, and Chris Bradley-Boyd, Sr. and their children, Chris Jr. and Creighton.

Todd, '89, and Carrie, '91, Robinson, and their children Lauryn, Taryn, Brittany and Brandon, Papillion, Nebraska.