October 11, 2017
K-State recycling project manager briefs state agencies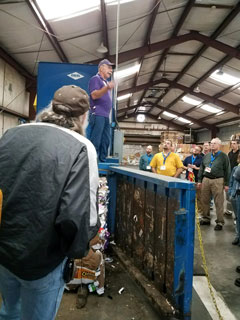 Bill Spiegel, K-State Recycling Center project manager, briefed more than 75 members of the Solid Waste Association of North America Oct. 4-5 at the Solid Waste Management Conference and Operator Training Course at the Hilton Garden Inn in Manhattan.
Spiegel spoke on various methods of recycling and reutilization at the university, including the day-to-day recycling of paper, cardboard and related material in the one-stop drop program, electronic waste methods and move-in/move-out programs. Spiegel also discussed the joint venture with Housing and Dining Services and the agronomy department with the reuse of compost and soil into the farm units, and the communication flow between student groups and administration being the foundation for this process.
"We all work together at the university in every way possible to make Kansas State University and the environment a more sustainable place," Spiegel said. "We all make a difference."