October 6, 2017
Kansas State University's Beef Cattle Institute appoints David Amrine as its new research director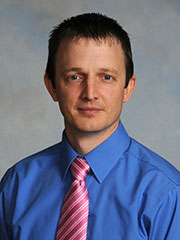 The College of Veterinary Medicine at Kansas State University has announced the appointment of David Amrine as the new research director for its Beef Cattle Institute, or BCI, which was founded in 2007 to create a professional and educational connection with the beef cattle industry.
Prior to joining the BCI, Amrine was employed as a data scientist for Adams Land and Cattle, Broken Bow, Nebraska, where he designed and analyzed controlled experiments, and developed tools to predict cattle health and performance outcomes. Earlier in his career, Amrine worked at Kansas State University on separate occasions as a research assistant and laboratory assistant.
"We are excited to have Dr. Amrine as a part of the BCI team. His experience in commercial cattle production and his data analytic skills are a great addition to the BCI," said Brad White, director of the BCI. "Dr. Amrine has unique talents in predictive analytics and has been working through his career on transforming operational data to decision support systems. We look forward to him continuing this work in the BCI to provide new information to support optimal beef production in Kansas and beyond."
Amrine earned a bachelor's degree at Wichita State University in 1997, and then worked as a programmer analyst for Geac Computers Inc. He then attended Kansas State University where he completed his Doctor of Veterinary Medicine in 2009. Amrine followed this by earning a doctorate in applied epidemiology in 2013, also at Kansas State University.
Amrine also has worked as a researcher for Professional Beef Services, Canton, Missouri, and as a veterinary medical officer for the U.S. Department of Agriculture's Food Safety and Inspection Service. He is a professional member of the Academy of Veterinary Consultants, American Association of Bovine Practitioners and American Veterinary Medical Association.
The mission of the Beef Cattle Institute is to utilize collaborative multidisciplinary expertise to promote successful beef production through the discovery and delivery of actionable information and innovative decision support tools.