October 4, 2017
Faculty presentations, student readings for #GetCurious event on Thursday, Oct. 12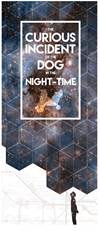 Are you ready to #GetCurious about life, the universe, and everything?
K-State faculty and students will provide a fast-paced journey through "The Curious Incident of the Dog in the Night-Time," the K-State Book Network's 2017 common reading selection, at 7 p.m. Thursday, Oct. 12, in McCain Auditorium.
The event is free, but tickets are required. Kansas State University students, faculty and staff can get a ticket with a valid university ID at the McCain Auditorium box office starting on Thursday, Oct. 5, while members of the public can get tickets at the Manhattan Public Library, 629 Poyntz Ave. Overflow seating will be available in the courtyard of the K-State Student Union.
"#GetCurious: Life, the Universe, and Everything" takes a different approach to programming than in past years. In place of a single lecture, the evening will include four 10-minute lectures on the book's themes in contemporary life. Opening and in between the lectures, students from K-State's Forensics Team and K-State Theatre will present short scenes from Haddon's novel.
"When we learned that author Mark Haddon would not be available to visit campus, we realized we had an opportunity to reimagine our keystone event in a way that reflects the concerns of his novel for our current moment," explained Karin Westman, department head of English and chair for the KSBN PR/Events Committee.
"'Curious Incident' is a novel whose meaning or message seems to change according to the perspective or angle you use to examine it. I am very excited about an event that will use K-State faculty experts to help us see the many facets of this amazing book," said Greg Eiselein, professor of English and director of K-State First.
"Curious Incident" tells the story of Christopher John Francis Boone, a 15-year-old boy living outside of London who is mathematically brilliant with a photographic memory and a love for animals more than people. He also has a mystery to solve: the suspicious death of a neighborhood dog. Along the way, Christopher's investigation reveals important truths about his community, his family and himself.
Tara Coleman, associate professor of K-State Libraries and chair of the K-State Book Network, is looking forward to the new format.
"This is the first time KSBN has sponsored an event that pairs faculty lectures with dramatic readings. I'm so excited to see the book interpreted through these different lenses," Coleman said.
The faculty presentations will include:
• Briana Nelson Goff, professor, department of family studies and human services, "Note to Self: A Perspective on Family, Success, and Enjoying Your Life Journey."
• Susan Nelson, clinical professor, school of veterinary medicine, "10 Ways That Animals Help Bring Out Our Humanness."
• Kimetris Baltrip, assistant professor, school of journalism and mass communication, "Red, White and Bruise: When Policing Mars the Innocent."
• Tom Sarmiento, assistant professor, department of English, "Under the Sea, Magical Worlds, and the Universe: Queering Pop Culture Representations of Exceptional Talents."
The K-State Book Network is counting down to the #GetCurious event by offering daily insights about "Curious Incident" on Twitter and Facebook.
The event is co-sponsored by K-State First, K-State Libraries, the communication studies department, and the School of Music, Theatre, and Dance.
"Curious Incident" is the university's eighth annual selection for the K-State Book Network, which started in 2010. For more information about the KSBN, visit the KSBN website.