October 23, 2017
K-State Theatre's 'The Effect' performs at Purple Masque Theatre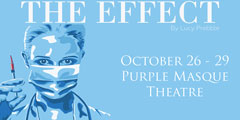 K-State Theatre's second stage production of "The Effect," directed by Peighton Jamison, senior in theatre, will take the stage this week.
Showtimes and dates are 7:30 p.m. Oct. 26-28, and 2:30 p.m. Oct. 29 in the Purple Masque Theatre at West Stadium.
Two medical trial participants succumb to mutual attraction — much to the frustration of the study's clinicians — in "The Effect." British Playwright Lucy Prebble's 2012 script explores questions of sanity, neurology and the limits of medicine, alongside ideas of fate, loyalty and the inevitability of physical attraction.
The cast includes Daijah Porchia, senior in American ethnic studies; Jacob Edelman-Dolan, sophomore in theatre; Elizabeth Kritikos, sophomore in theatre; and Skyler Lindquist, freshman in English.
Tickets are $9 for the general public; $7.75 for seniors, military, faculty and staff; and $5.75 for students and youth. They can be purchased at the online K-State Theatre and Dance box office at k-state.edu/mtd/tickets, or by phone at 785-236-8638. Tickets also can be purchased one hour prior to show time in the performance venue. All tickets, regardless of purchase method, are free from convenience fees and sales tax is included.