September 27, 2017
National St. Jude Research Hospital recruitment day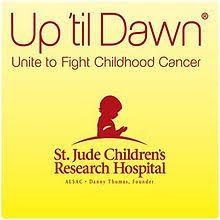 Every year, students on campuses nationwide stay up all night during St. Jude Up 'til Dawn events to raise money for St. Jude Children's Research Hospital.
Register for K-State's college campus fundraiser event today to join the lifesaving mission of St. Jude and help kids battling cancer and other life-threatening diseases.
Also, sign up and learn more from 9 a.m. to 12:30 p.m. Sept. 27 in the Quad or 4:30-6:30 p.m. Sept. 27 in the Derby Dining Center.
What your support means:
Families never receive a bill from St. Jude for treatment, travel, housing or food — because all a family should worry about is helping their child live.
Treatments invented at St. Jude have helped push the overall childhood cancer survival rate from 20 percent to more than 80 percent since it opened more than 50 years ago. St. Jude won't stop until no child dies from cancer.
Join K-State's Up 'til Dawn organization in helping St. Jude!
Contact Denisse Benitez at dbenitez16@k-state.edu with questions.