September 22, 2017
K-State students, faculty observe Banned Books Week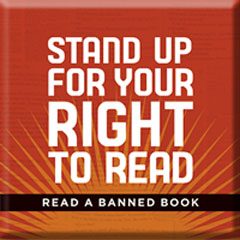 The K-State English department, Sigma Tau Delta International English Honor Society, K-State Libraries and 91.9 KSDB Manhattan, K-State's student-run radio station, are co-sponsoring a series of events Sept. 24-30 to recognize Banned Books Week.
K-State students, faculty and staff will read from notorious and surprising banned books 12:15-12:30 p.m. Monday-Friday, on 91.9 FM. Selections include books that have been banned or challenged in libraries and schools. In addition, there will be a table in the K-State Student Union by Room 58 staffed from noon to 1 p.m. daily providing information about Banned Books Week and the opportunity to enter a free drawing for a gift certificate to Claflin Books.
K-State Libraries will also display a number of controversial titles on Hale Library's main floor, including the "Top 10 Most Challenged Books of 2016" as reported by the American Library Association's Office for Intellectual Freedom.
"Banned Books Week is the perfect time to reflect that the First Amendment guarantees all of us the freedom to read," said Daniel Ireton, academic services librarian. "In fact, the Library Bill of Rights, a foundational document of the library profession, states that libraries should challenge censorship and we take that charge very seriously."
For further information, contact Naomi Wood at njwood@k-state.edu. To learn more about Banned Books Week nationwide, visit the American Library Association.