September 11, 2017
Bryan Schurle to present as part of Last Lecture series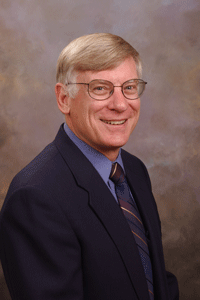 After 40 years of service as a professor in the Kansas State University agricultural economics department, Bryan Schurle will give his last lecture.
Schurle will present "My Last Lecture" at 3 p.m. Friday, Sept. 15, in 350 Waters Hall as part of the Last Lecture series in which agricultural economics faculty give one last lecture for the campus community and the public shortly after retiring.
"Dr. Schurle had an outstanding career at Kansas State University and in the agricultural industry," said Allen Featherstone, department head and professor of agricultural economics. "He and the other retiring professors who are a part of this Last Lecture series made a great impact on thousands of students and agriculture in the state of Kansas. The agricultural economics department, College of Agriculture and the university are very grateful for their contributions and dedication to Kansas State University and agricultural economics. We encourage everyone to attend this series so they can learn more about their impacts."
Schurle's teaching and research areas included risk management, computer decision tools for agribusiness, agricultural finance, applied econometrics, and farm and ranch management.
Schurle received his bachelor's degree in mathematics and minors in physics and computer science from Emporia Kansas State College and master's degree in computer and information science and doctorate in agricultural economics from Ohio State University.
Schurle won many awards throughout his career for teaching, mentoring and advising, including the University Distinguished Teaching Scholar, and is frequently mentioned by graduating seniors as one of the department's best advisors. He also received a Golden Quill Award, Carnegie Foundation Award, David J. Mugler Award and Agricultural and Applied Economics Association awards.
In addition, he served as faculty advisor for Agricultural Student Council, Grace Baptist Student Fellowship, Clovia, InterVarsity Christian Fellowship and the Undergraduate Agricultural Economics Club. He has given unselfishly to promote higher education in many ways. Schurle contributed greatly to more than 11,000 students and Kansas agriculture. The agricultural economics department, College of Agriculture and the university are very grateful for the opportunity to recognize his contributions to K-State and agricultural economics.
Contact Judy Maberry at judym@k-state.edu or 785-532-4493 for more information about Schurle's lecture or others in the Last Lecture series.