September 11, 2017
Reminder: Chinese culinary workshop today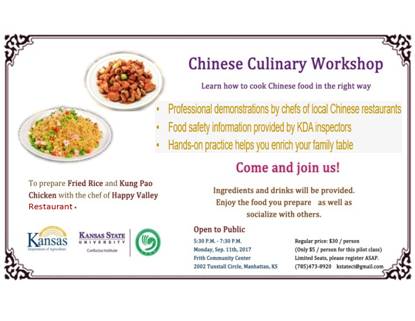 According to the Center for Disease Control, 63 percent of foodborne illness outbreaks occur in restaurant settings and 12 percent in home kitchens. Most of them are avoidable with proper food handling.
The K-State Confucius Institute and Kansas Department of Agriculture will host a Chinese culinary workshop to demonstrate proper food handling from 5:30-7:30 p.m. Monday, Sep. 11, at the Frith Community Center at Jardine Apartments. Space is limited to 15 individuals; please contact kstateci@gmail.com or 785-532-3680 if you are interested in participating.
The cost of this event is $5 to ensure attendance, venue planning and food preparation. Ingredients and drinks will be provided.