September 19, 2017
Gerontology professor wins early career achievement award
Submitted by College of Human Ecology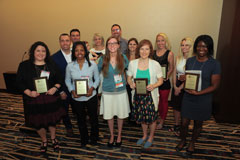 Maggie Syme, assistant professor of gerontology, was recently awarded the Early Career Achievement Award from the American Psychological Association's Office for Early Career Psychology at its annual convention in August 2017. This award was based on her research presentation as well as her contribution to the American Psychological Association as an early career psychologist.
To be eligible for the award, one had to be an early career psychologist, have earned their doctorate in the last 10 years, and have had excellence in research and professional service to the organization. Syme's research focuses on what matters to middle and older adults in intimate situations in long term care.
The American Psychological Association is the leading scientific and professional organization representing psychology in the United States with more than 115,700 researchers, educators, clinicians, consultants and students as its members. Early career psychologists make up about 20 percent of the association's membership.