April 28, 2017
Presidential planting: Tree honors K-State president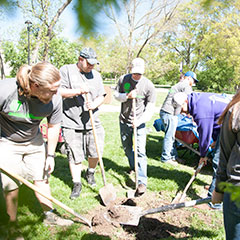 Horticulture students are planting a series of trees this week in honor of Arbor Day and Kansas State University President Richard B. Myers.
At each planting, Cathie Lavis, associate professor of landscape management, and her arboriculture students are demonstrating the correct tree-planting method.
A tree planting to honor Myers was on Wednesday, April 26. Lavis and some of her students planted an Urban Sunset maple tree, Acer truncatum x platanoides, near the southeast corner of Anderson Hall. Myers attended. A small plaque placed near the tree commemorated the date, species and the fact that it was planted in Myers' honor.
"We were pleased to have the opportunity to honor our president with a tree for his inauguration," Lavis said. "It's not often that our class gets to recognize a specific person with any of our plantings, and it was a privilege to recognize someone who is contributing so much of his time and expertise to make K-State an even better place."
Four of the plantings were held earlier this week. The public is invited to attend two tree plantings Friday, April 28:
10:30 a.m. — A cotton candy redbud tree, Cercis Canadensis, on the north side of Holtz Hall.
1:30 p.m. — A John Pair Caddo sugar maple tree, Acer saccharum, near the east entrance of Throckmorton Hall. The late John Pair, a renowned university horticulturist, found this maple species growing in Oklahoma and recognized its potential for exceptional heat tolerance and brilliant red fall color, Lavis said.
The other plantings this week included:
• Wednesday, April 26 — A skinny blue genes blue spruce tree, Picea pungens, near the southwest corner of Throckmorton Hall. Cindy Bontrager, vice president for administration and finance, attended, as well as the entire arboriculture class.
• Thursday, April 27 — A dawn redwood tree, Metasequoia glyptostroboides, just east of All Faiths Chapel.
• Thursday, April 27 — An exclamation London planetree, Platanus acerifolia "Morton Circle," near All Faiths Chapel.
"We selected several tree species because we need and want a variety on campus for teaching purposes and we want to maintain the concept of a tree arboretum, especially since Kansas State University has been recognized as a Tree Campus USA," Lavis said.
Lavis said Joe Myers, head of grounds maintenance; Mark Taussig, associate director of facilities planning; and other members of the Division of Facilities do an excellent job of caring for trees on the Manhattan campus and participating in the Tree Campus USA annual committee.
Since becoming a Tree Campus USA in 2013, Lavis' arboriculture class has developed a tradition of educating the public about trees on or near Arbor Day each year. This year, they are hosting educational booths with information about the emerald ash borer, an invasive beetle that attacks and kills native ash trees. The final booth will be 10:30 a.m. to 2:30 p.m. Friday, April 28, on the south lawn of Holtz Hall and in the Quad.