April 27, 2017
Two students selected as residence hall mentors for Kansas State Polytechnic leadership program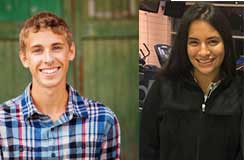 Upward Bound, a leadership program housed at Kansas State University Polytechnic Campus, recently selected two K-State students as residence hall mentors for high school students during the 2017 Summer Institute.
Eli Berner, sophomore in kinesiology and pre-med with a minor in business, is a member of the Delta Sigma Phi fraternity and is on the 2017 Student Homecoming Committee.
Madelyn Gonzalez, sophomore in electrical engineering technology at Kansas State Polytechnic, aspires to study aerospace engineering. She also enjoys studying aviation. Gonzalez, a first-generation student, is the current president of the Solar Boat Club and volunteers as Big at Big Brothers Big Sisters of Salina.
As a residence hall mentor, students have the autonomy to coordinate and supervise the group living experience in a team-focused environment.
Berner and Gonzalez are outstanding scholars, and both are actively involved in leadership roles on campus and in the community. Both students exemplify attributes of a great student leader, and both will be amazing role models for Upward Bound students.
Upward Bound provides students with the opportunity to utilize their effective oral and written skills sets through various group activities and presentations as well as hands-on experience with dealing with conflict resolutions. Students also will become more familiar with Upward Bound and college residence hall policies and procedures. This experience teaches students to comprehend and cultivate the needs of diverse high school students who are economically and academically disadvantaged. These skills are transferable for students to utilize in their academic courses, leadership roles in student organizations and future employment.
All K-State students are eligible to apply to the Upward Bound Summer Institute leadership opportunity. Please consider applying to be a residence hall mentor for the 2018 Summer Institute.
Upward Bound is a federally funded campus-based TRIO program designed to assist area high school students successfully navigate high school and prepare for college through advisement and encouragement to succeed in high school and later in college. Upward Bound serves 55 students from four target schools: Clay Center Community High School, Ell-Saline Junior-Senior High School, Lincoln Junior-Senior High School, and Newton High School.