April 12, 2017
International soloist Øystein Baadsvik to perform Friday at K-State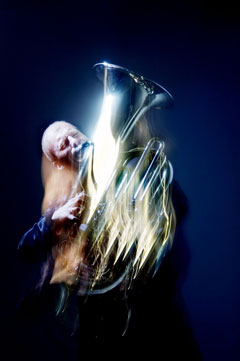 Øystein Baadsvik is the only tuba virtuoso to have carved out a career exclusively as a soloist, rather than becoming a member of an orchestra or accepting a teaching post. His multifaceted musical career as a soloist, chamber musician, lecturer and recording artist has taken him all over the world. The unique virtuosity and musicality Baadsvik brings to the tuba has established him as the exemplar of the instrument.
Baadsvik will present a full concert at 7:30 p.m. Friday, April 14, in All Faiths Chapel. This concert is free to the public. Support for this event is provided by the K-State Student Governing Association and the School of Music, Theatre, and Dance.
Baadsvik studied under the celebrated tuba player Harvey Phillips, distinguished professor emeritus in the music department at Indiana University, and with the legendary Arnold Jacobs, who had a 40-year career and position of principal tuba with the Chicago Symphony Orchestra. Baadsvik's international career began in 1991 when he was awarded two prizes at the prestigious Concours International d'Exécution Musicale in Geneva.
His international engagements include performances with orchestras such as the Oslo Philharmonic Orchestra, Bergen Philharmonic, Warsaw Philharmonic Orchestra, the Taipei National Symphony Orchestra, Singapore Philharmonic, and the Orchestra Victoria of Melbourne. Baadsvik has performed in some of the most famous venues in the world and in 2006 made his New York recital debut at Carnegie Hall.
He works to expand the musical aspects of the tuba and has premiered approximately 40 solo works by composers from the U.S., Russia, Sweden, Norway and Switzerland. In this ongoing process, he has developed new tuba-playing techniques that have been used in a number of more recent works for the instrument.
Baadsvik is an active recording artist whose CDs receive unstinting praise. During the last two years, he reached a major breakthrough in Japan, where his CDs ranked second in sales recordings for all wind instruments. The American Record Guide's review of "Tuba Works" states, "This spectacular recording establishes Baadsvik as one of the best solo tubists in the world."
From The Daily Telegraph, U.K, in praise of "Tuba Carnival": "…his capacity for lyricism in a recording that emancipates the tuba from its Cinderella role with ear-catching panache. Baadsvik shows that anything a violin can do, a tuba can do too."
Baadsvik is a Miraphone artist.