April 12, 2017
Food safety webinar on poultry food safety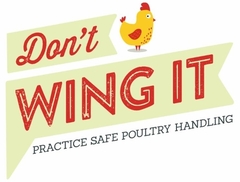 Registration is now open for a webinar for food safety educators on consumer poultry food safety. The webinar is based on information partly developed by K-State professors, Edgar Chambers IV, Delores Chambers and Kadri Koppel.
The free webinar will be noon to 1 p.m. Tuesday, April 18. Registration is open to the public.
The webinar, hosted by FightBac! the Partnership for Food Safety Education, will focus on poultry food safety and the national campaign launch for "Don't Wing It — Practice Safe Poultry Handling." The campaign was developed based on research conducted at K-State, Tennessee State University and Research Triangle Institute.