March 29, 2017
Nutrition informatics with Martin Yadrick at the 43rd annual Grace Shugart Lecture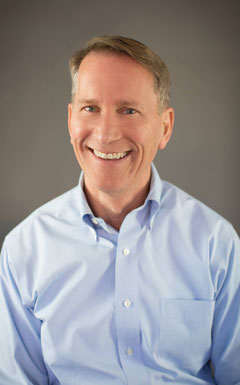 With almost four decades of experience in nutrition and dietetics, Martin Yadrick brings his passion for the field to the 43rd annual Grace Shugart Lecture. He will speak at 4:15 p.m. April 12 in Room 1008 of the College of Business Administration building.
For the last 24 years, Yadrick, a registered dietitian nutritionist, has worked for Computrition Inc. in Los Angeles, California. He has served the last 10 years as director of nutrition informatics, which places him as nutrition content expert for the company's food and nutrition management software. Previously, Yadrick served as an account manager, marketing manager, part of the training team and implementation manager. Throughout his time with Computrition, he has taken on an integral role in project management and implementation.
Early in Yadrick's career, he worked as a clinical dietitian in a cardiac rehabilitation unit and then in academia as an instructor and administrator in the dietetics and nutrition department at the University of Kansas Medical Center. His role with the medical center included financial management and human resources within the department, in addition to graduate course instructor and graduate student preceptor.
Yadrick's leadership roles are an important component to his career and they include the presidency of the Academy of Nutrition and Dietetics, in addition to a multitude of elected and appointed positions in the former American Dietetic Association. He has given more than 200 media interviews and more than 100 presentations to peers and professionals. He has provided testimony to U.S. Congressional committees and the National Academy of Medicine, formerly called the Institute of Medicine. Yadrick also is a fellow of the Academy of Nutrition and Dietetics.
Yadrick has a Master of Biomedical Informatics from Oregon Health and Science University, a Master of Business Administration from University of Missouri-Kansas City, a Master of Science in dietetics and nutrition from the University of Kansas and a Bachelor of Science in food science and nutrition from Colorado State University.