March 16, 2017
Kansas State University earns 2016 Tree Campus USA Recognition
Submitted by Communications and Marketing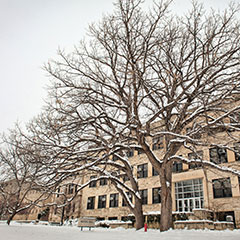 Kansas State University is again recognized as a Tree Campus USA for the third year in a row.
Tree Campus USA is a nationwide Arbor Day Foundation program that honors colleges and universities for promoting healthy trees and engaging students in conservation.
"This recognition is something for our university to be proud of," said Cathie Lavis, associate professor of horticulture and natural resources. "It shows that many people on campus, from dedicated students to hardworking facilities staff, are advocating for our trees."
To obtain the Tree Campus USA distinction, K-State met five core standards of sustainable campus forestry:
Holding an Arbor Day observance event.
Sponsoring student service-learning projects.
Showing evidence of a campus tree-care plan.
Dedicating annual expenditures for a campus tree program.
Establishing a tree advisory committee.
Lavis' arboriculture class of 34 students contributed to K-State's achievement by educating the campus community and planting trees during the week of Arbor Day, April 27-29, 2016. Lavis and the students hosted a table display in the Waters Quad and Bosco Plaza. With a Green Action Fund grant from the Student Governing Association and the Student-Centered Tuition Enhancement Fund, they planted six trees and installed 20 educational signs, which stand beside some of the Manhattan campus's most spectacular and historical trees, Lavis said.
Surrounding Arbor Day, students participated in several service-learning projects, including educational workshops and tree planting demonstrations, where they distributed tree-planting guides that they co-wrote, under Lavis' guidance. The students also demonstrated safe tree climbing with the use of rope and harness climbing systems. Additionally, they managed tree-related games, gave Tree Campus USA water bottles to winners and administered surveys afterward to determine the events' educational impact.
"Because we love our campus and realize a campus without trees would be a dystopian place, we all must learn to appreciate trees' value and benefits to our environment," Lavis said. "If people understood trees and their contributions, they would want to take care of them so the next generations could have the beauty we are able to enjoy."
The campus tree-care plan includes recommendations for tree selection, planting, pruning, staking, trunk protection, fallen limb removal, hazardous tree removal, stump grinding and other procedures. The university has dedicated two full-time employees and one-third of a foreperson's time to the program. The Division of Facilities spends $20,000 to purchase new trees each year, along with covering other costs such as machinery and equipment maintenance.
K-State's 2016 Tree Campus USA committee put together the application that allowed K-State to receive the award. The committee included four students: Beau Fick, senior in psychology; Brady Hendricks, senior in landscape maintenance; Andrea Johnson, senior in horticulture; and Simon Loose, senior in landscape management.
Other committee members included Kim Bomberger; district community forester for the Kansas Forest Service; Lavis, committee chair; Scott McElwain, director of the Kansas State University Gardens; Joe Myers, physical plant supervisor with the Division of Facilities' grounds maintenance; Mark Taussig, university landscape architect; Judy O'Mara, instructor and diagnostician in the plant pathology department; Jackie Toburen, physical plant supervisor senior for the Division of Facilities; and Chip Winslow, professor of landscape architecture and regional & community planning. Travis Hummel, owner of Hummel Tree Service; Randy James, owner of Growing Concerns; and J. David Mattox, forestry supervisor for the city of Manhattan, also participated in the committee.