March 7, 2017
K-State mobile cooling unit featured in national trade magazine
Submitted by Communications and Marketing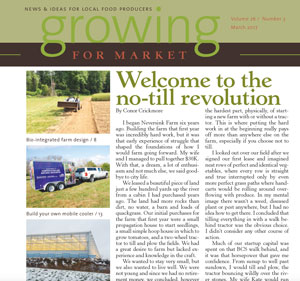 The March 2017 edition of Growing for Market, a trade magazine for small-acreage and local produce farmers, mentioned K-State in an article about mobile produce coolers, and featured a picture of K-State's unit on the front page.
K-State students and staff at the K-State Olathe Horticulture Research and Extension Center built the unit — nicknamed "KoolCat" — a few years ago. The cooler has been used in many K-State Research and Extension educational days and programs, as well as demonstrations, for local farmers, students and enthusiasts.
The unit was built through a partnership with the Kansas Department of Agriculture and a Specialty Crop Block Grant, led by K-State Horticulture and Food Science faculty.
According to the Growing for Market article, mobile coolers allow for the low-cost transport of produce to markets, as well as being useful for stationary cold storage and use in harvesting fragile fruits and vegetables.
K-State's cooler has been a key part of K-State Olathe's annual Horticulture Center Field Day, which provides seminars, classes and demonstrations for local farmers.