March 2, 2017
Division of Biology Seminar March 3
Submitted by Division of Biology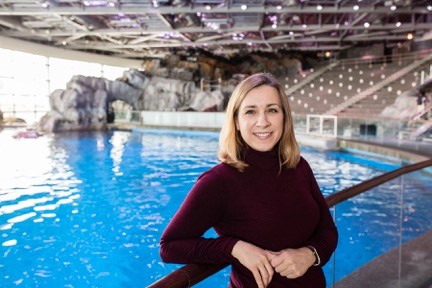 Angela Kent, University of Illinois, will present "Managing the Microbial Ecology of Marine Aquarium Habitats" as part of the Division of Biology Seminar Series at 4 p.m. Friday, March 3, in 221 Ackert Hall.
The abstract for the lecture is derived from the aquatic environment that contains a diverse array of microbes that are essential to nutrient cycling and ecosystem balance. The diversity and dynamics of these microbial communities are shaped by ecological drivers that are subject to seasonal and anthropogenic influences. In managed aquarium systems, the ecological drivers that influence microbial community composition are constrained by management goals and regulations, and many microbial ecosystem services are accomplished through water quality engineering. This contrast in ecological drivers between natural and managed systems has the potential to profoundly impact the microbiome experienced by animals in aquarium habitats. The influence of the microbiome on animal health is gaining increasing recognition, so understanding the impact of environmental management on the microbial assemblages is a critical part of maintaining a healthy environment. Kent's exploration of the microbiome in aquarium habitats revealed the diversity of microbial life that share the environment with marine mammals, and they have started to make connections between how they manage the microbiome and health of the animals. As they learn more about the positive role that microbial communities play in animal health, the goal is to manage built environments for optimal health of the inhabitants.
Kent, an associate professor in the natural resources and environmental sciences department at the University of Illinois at Urbana-Champaign, and an affiliated scientist with the Shedd Aquarium in Chicago, works to apply our understanding of microbial ecology to improve the health and sustainability of natural and managed ecosystems.
If you would like to visit with Kent, please contact Lydia Zeglin at lzeglin@k-state.edu.