November 29, 2016
Geography honorary society earns Honors Chapter award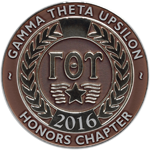 K-State's Beta Psi chapter of Gamma Theta Upsilon, or GTU, the International Geographical Honor Society, earned Honors Chapter award for its efforts in 2015-2016.
Requirements for earning Honors Chapter status involve considerable involvement in "service to geography."
K-State's chapter activities include Adopt-A-Highway cleanup, hosting geography speakers, helping run the Kansas Geographic Bee, having a cookout and camping experience, assisting with activities of the Kansas Geographic Alliance, holding GIS session to assist with earthquake disaster mapping, sharing information about geography at local K-12 schools, bowling nights in the K-State Student Union and recruiting new members.
Membership in the chapter requires enrollment in at least three geography classes with at least a B average. Less than 10 percent of local chapters are recognized as an Honors Chapter.
John Harrington Jr., the chapter's faculty advisor, is pleased with the student efforts in chapter involvement and community engagement.
"We've been fortunate to have very good student leaders who have motivated the group to take on a lot of activities," Harrington said. "Our top students in geography can be proud that the K-State GTU chapter has earned Honors Chapter status for the third year in a row!"