November 30, 2016
K-State Choirs to host annual Festival of Holiday Music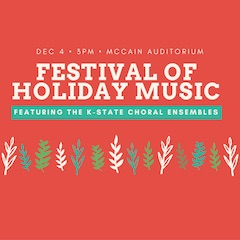 The K-State Choral Division invites the university community to get into the spirit of the holidays with the Festival of Holiday Music at 3 p.m. Sunday, Dec. 4, at McCain Auditorium.
The concert will feature more than 300 singers across seven choral ensembles and is a must-see event during the holiday season!
At the concert, learn about exciting plans for the fourth annual Rhapsody scholarship concert event in Kansas City, Missouri, in April 2017 — and there might just be a surprise for all attendees in the audience.
Festival of Holiday Music tickets are $8 and can be purchased online. Tickets will be held at the will call window of the McCain Auditorium box office one hour prior to the show.