November 16, 2016
New president welcomed to Kansas State University
Submitted by Division of Communications and Marketing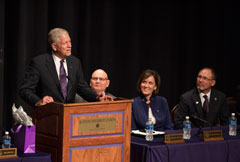 The Kansas Board of Regents announced the appointment of Richard B. Myers as the 14th president of Kansas State University on Nov. 15.
"The kindness that has been extended to Mary Jo and me has been overwhelming from the time we've been here as the interim," said President Myers during the Regents' announcement to the university. "I am humbled to be the 14th president and proud to be serving Kansas State University."
Here are reactions from the search committee chair and a few university leaders.
Regent Dennis Mullin, Kansas Board of Regents and chair of the K-State Presidential Search Committee
"We had an excellent pool, and we would not have had that pool without the closed search. Gen. Myers has been in an on-the-job interview for eight months and we observed his passion for the job and for K-State. Probably one of the things that jumped out at me personally was how quickly he educated himself on situations and how quickly he could look for solutions. His leadership style goes without question, I think he has a good blend of sincerity and humor. His drive is not just for Kansas State University but for the importance of higher education in the state of Kansas."
April Mason, provost and senior vice president
"A central aspect of K-State 2025 is building key partnerships to advance Kansas State University. President Myers brings a worldwide network of contacts in business, industry and the military to the position of president. I look forward to his leadership as the Kansas State community works together to become a Top 50 public research university."
Andrew Bennett, president of Faculty Senate, department head and professor of mathematics
"Everyone looks at Gen. Myers and knows that this is a man who has handled very difficult situations. He is a man who has done a lot and inspires a lot of respect from other people. I think he can bring the message of what the university needs and the requirements for us to produce the educated workforce that will drive the Kansas economy. He is very good at representing Kansas State University to the public, to legislators, to donors and to students throughout the country. I think that is a great asset to our university."
Pat Bosco, vice president for student life
"President Myers' leadership in multiple areas has been a great asset to Kansas State University students, and I am pleased with the Board of Regents' selection for our 14th president. K-State's Office of Student Life staff work hard to put students first, and President Myers will provide great guidance and support as we work together toward our K-State 2025 goals."
John Currie, K-State athletics director
"Gen. Myers understands and believes in the role that intercollegiate athletics can play in the overall mission of the university. Intercollegiate athletics is only beneficial to an institution if it's done in the right way, and we take pride in being a Model Intercollegiate Athletics Program at K-State. Gen. Myers stepped into the interim role right away and established himself during his first Big 12 board meeting as a real leader who carried weight with the other presidents of that board. If you look at the progress that the institution has made over the years, I believe that Gen. Myers is the perfect person to take the baton and continue to sprint forward."
Peter Dorhout, vice president for research
"In working with President Myers, I've been impressed with how he has embraced our goal of becoming a Top 50 public research university. He understands and appreciates our land-grant research mission and heritage. His support of that mission will help us continue to impact the lives and livelihoods of Kansans through our research in food production, animal health, infectious diseases, natural resources, and the human condition while we educate future leaders through the pursuit of excellence in a range of research, scholarly, and creative activities and discoveries."
Carol Marden, president of University Support Staff Senate
"The USS Senate would like to welcome our 14th president to Kansas State University as we are honored to have the privilege of working with such an outstanding leader. President Myers clearly understands the complexity of our community and the challenges that we face. It is reassuring to know that we have as president, one who has and will, lead successfully in a grand way."
Amy Button Renz, president and CEO of the K-State Alumni Association
"We are very proud to have such a distinguished graduate of Kansas State University selected to serve as our 14th president. President Myers is an incredible individual who readily shares how his education at K-State helped shape who he is today. His warm, sincere personality resonates with members of our Wildcat community, and people really appreciate how he willingly embraces our Midwest values. We are also fortunate to have his wonderful partner, Mary Jo, a past member of the alumni board, serving as first lady of our university."
Bill Snyder, K-State head football coach
"I think you couldn't have a better choice to have somebody who has the worldwide expertise that Dick has and being the kind of individual he is. I think the thing that stands at the very top of the list is the fact that he is a Kansas State person and he understands the Kansas State community, the Kansas State people and the Kansas State way. I admire him and appreciate him and have a great friendship with him."
Jessica Van Ranken, student body president
"I really enjoyed having the opportunity to interact with Gen. Myers and work with him in his interim capacity, and I'm really excited to continue that on an even fuller scale now as he takes on the permanent role. I know he has a really strong interest in working with student government and students across the institution very closely in order to serve their needs. I think he'll be able to connect with students because they respect him so deeply; they really view him highly as a leader both of our nation and at K-State."
Greg Willems, president and CEO of the Kansas State University Foundation
"Gen. Myers and Mary Jo's lifelong connection to K-State gives them a unique perspective, set of qualities and experiences that are going to serve them both very well. Gen. Myers has certainly shown he's a great relationship builder, connector, good at building coalitions and making resolute decisions when the time is required. I couldn't be more thrilled with the choice for our 14th president at K-State."