November 15, 2016
K-State Latin Jazz Ensemble to perform at New York music festival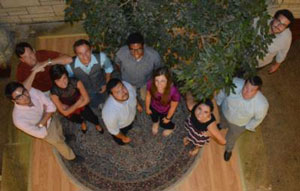 The K-State Latin Jazz Ensemble will perform at the eighth annual Johnny Pacheco Latin Music and Jazz Festival in New York City at 1:30 p.m. Thursday, Nov. 17, via live stream in Forum Hall at the K-State Student Union.
The performance is open to the public for a local on-site audience.
According to festival director Allan Molnar, the four-day festival at Lehman College/CUNY is an annual event that provides performance and learning opportunities for talented young musicians who are studying music in New York City schools. The Pacheco Festival is committed to developing a worldwide audience via live internet streaming and other forms of broadcast media. More than 250 student musicians perform at this festival each year. The festival is a collaboration between the Lehman College music department and multimedia center and Bronxnet Television.
The festival has been designed as a hybrid virtual and "brick and mortar" event which enables invited guests to participate via live interactive video conferences. Clinicians and performers have joined the event from Santiago, Chile; Winnipeg, Canada; Manhattan, Kansas; Hong Kong; San Francisco, California; and Montreal. Most notably, National Education Association jazz masters Clark Terry and Frank Foster have participated in music presentations from their homes via Skype.
The festival is simulcast live on Bronxnet Television and worldwide via webcast. This event also is promoted as part of the Jazz Education Network virtual outreach series. The live broadcast of this event reaches a potential audience of 370,000 homes in the Bronx and receives thousands of views via the internet.
The festival brings Latin music and jazz to an international audience by making its live internet stream available to school audiences worldwide. Public and private school teachers are given educational resources to assist in guiding their students through the process of listening to live Latin music and jazz performances.
Past performances of the K-State Latin Jazz Ensemble include the live concerts at the University of Northern Colorado Jazz Festival and performances streamed live to events in Canada and Sweden.