November 11, 2016
College of Veterinary Medicine presents three faculty members with annual teaching awards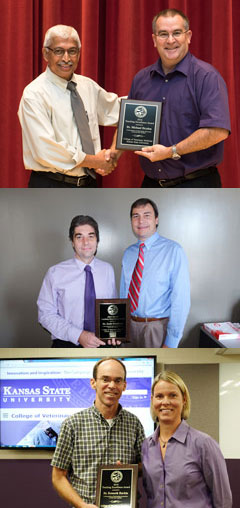 Three faculty members have been recognized for preclinical teaching excellence in the College of Veterinary Medicine at Kansas State University. Zsolt Szladovits, Michael Dryden and Kenneth Harkin were each named as the respective top teachers for the first, second and third years of instruction, as voted on by each respective class of students at the end of the 2015-2016 school year.
"Our college's teaching awards originally began with the Parallel Paths Program and, later, a college group called the High Plains Drifters that wanted to recognize teaching excellence at every stage of the veterinary curriculum and thus prioritized the development of new teaching awards during the 2004 academic year," said Ronnie Elmore, associate dean for academic programs, admissions and diversity programs. "While the High Plains Drifters has since disbanded, the college is committed to the continuation of these awards. We have obtained multiyear annual plaques that are displayed in the lobby of Trotter Hall to identify the recipients of these awards on an annual basis, in addition to the plaques that are presented to each of the recipients."
Szladovits, instructor in the anatomy and physiology department, was named as the recipient of the 2016 Merial Teaching Excellence Award, which is presented in recognition of outstanding instruction of first-year veterinary students. This is his third time receiving this award, having previously been honored in 2007 and 2011.
Szladovits received a Doctor of Veterinary Medicine in 1998, and has previously received teaching awards at his alma mater at the University of Veterinary Medicine in Budapest, Hungary, where he taught anatomy before joining Kansas State University.
"Thank you for the hard work of class 2019 during their anatomy course, and I am very glad that I had the opportunity to facilitate this key learning process," Szladovits said. "I feel very humbled by being recognized for teaching excellence; it is hard to imagine a better way of acknowledgement of the work I have been doing over the last year. I am extremely thankful for receiving this prestigious award and wish continued success for the entire class for the remainder of their course."
Dryden, university distinguished professor of veterinary parasitology in the College of Veterinary Medicine's diagnostic medicine and pathobiology department, was presented with the 2016 Teaching Excellence in the Second Year Award in recognition of outstanding instruction of second-year veterinary students. He also was honored with the second-year teaching award in 2006.
Dryden earned a bachelor's degree in 1982 and a Doctor of Veterinary Medicine in 1984, both from Kansas State University. He later earned a master's degree in 1988 and a doctorate in 1990, both from Purdue University in West Lafayette, Indiana.
"This college has numerous highly competent and excellent educators and it is an honor to be recognized by the students as one those faculty," Dryden said. "Our students deserve the best education we can possibly deliver. I understand and appreciate that this is a college of veterinary medicine and not a department of veterinary science, which to me means, that the doors open and lights turn on every day because we are first and foremost training the next generation of veterinarians."
Harkin received the 2016 Teaching Excellence in the Third Year Award. He also received the award in 2012.
"There are so many excellent teachers at the College of Veterinary Medicine deserving of this award, so I'm honored to receive the teaching award this year," Harkin said.
Harkin earned a Doctor of Veterinary Medicine in 1989 from Iowa State University and completed a residency at Michigan State University. He currently instructs fourth-year veterinary students in their clinical rotations through the internal medicine service and presents didactic lectures to third-year veterinary students in gastroenterology, hepatology, neurology and clinical hematology.