November 11, 2016
K-State Legal Education Accelerated Degree students visit Kansas Supreme Court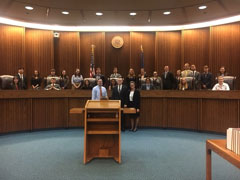 The first class of students participating in the Legal Education Accelerated Degree, or LEAD, program this academic year had the first of many experiential learning experiences on Oct. 27.
Seven members from K-State traveled to the Kansas Judicial Center in Topeka with Daralyn Gordon Arata, coordinator for the Office of Pre-Law Advising, and Lumen Mulligan, professor at the University of Kansas School of Law and 16 of KU's LEAD students.
At the Kansas Judicial Center, the students had the opportunity to watch attorneys argue their cases as the Justices asked pertinent questions, and sat in on three different cases before the Kansas Supreme Court. After the court hearings, the students engaged in a luncheon with Justices Carol A. Beier, Caleb Stegall and Chief Justice Lawton R. Nuss, and were able to hear about their law careers.
The LEAD program allows students to earn an undergraduate degree and law degree in six total years, rather than the traditional seven. Students spend three years as an undergraduate at K-State and then are admitted into the University of Kansas School of Law to finish both degrees.
For more information about pre-law or the LEAD program, please visit the pre-law office in 215 Fairchild Hall or email Arata at darata@k-state.edu.