November 8, 2016
K-State Spanish Club hosting Celebración Cervantina/Cervantes Celebration Nov. 10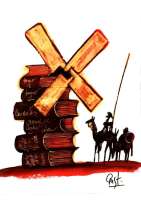 The Spanish Club, an official student group, with support from the Student Governing Association, K-State Libraries and the modern languages department, will host a Cervantes Celebration from 4-5:30 p.m. Thursday, Nov. 10, in Hale Library's Hemisphere Room.
The celebration is in recognition of the 400 years since the death of Miguel de Cervantes, the great 17th-century Spanish playwright and author of "Don Quixote de la Mancha."
Mirzam Pérez, associate professor of early modern Spanish at Grinnell College, will present a guest lecture, "Read Me a Story, Mr. Cervantes! Reading and Writing Practices in Early Modern Spain." Pérez will discuss the experience of reading Cervantes in the 17th century, paying particular attention to the orality of the texts.
Focusing on the fact that the novel, "Don Quixote de la Mancha," was commonly read out loud by one individual to a group of listeners who could not read for themselves, Pérez will consider how Don Quixote became such a popular icon through literature and festival culture, in which reading itself became an act of performance.
A brief reception with an interactive activity and light refreshments will follow the lecture and Q-and-A.