November 7, 2016
Last two days to buy tickets for the International Food Festival
Submitted by Dhruthi Singamsetty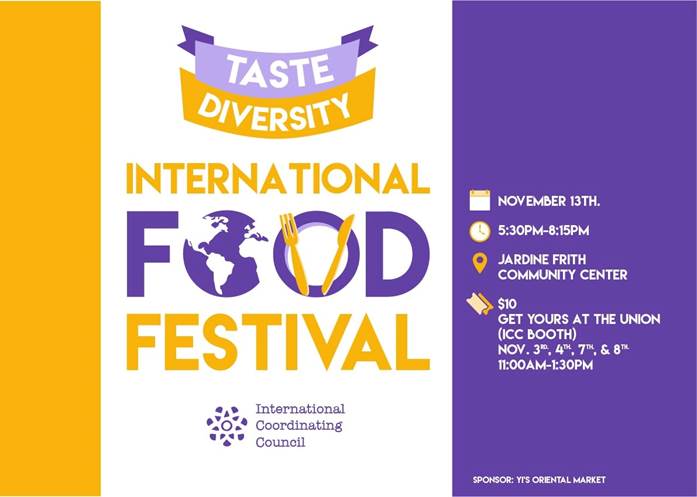 The International Coordinating Council, an official student group, presents the annual International Food Festival from 5:30-6:45 p.m. or 7-8:15 p.m. Nov. 13 in Jardine's Frith Center.
Eight countries will be represented — India, Thailand, China, Japan, Indonesia, Australia, Paraguay and South Africa — with some delicious dishes for the Food Festival. Two sessions will be offered — Session A from 5:30-6:45 p.m. and Session B from 7-8:15 p.m. — but the same food will be served in both sessions.
Attendance is capped at 200. Tickets are $10 at the International Coordinating Council booth 11 a.m. to 1:30 p.m. Nov. 7-8 at the K-State Student Union. Contact Dhruthi Singamsetty at dhruthis@k-state.edu or Cecilia Caceres at toticaceres@k-state.edu with questions.
Looking forward to seeing you all!
Regards,
Dhruthi Singamsetty
Vice president,
International Coordinating Council