October 26, 2016
Student organization to present Indian classical music concert Oct. 29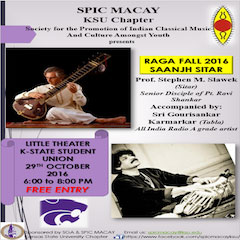 The K-State chapter of the Society for Promotion of Indian Classical Music and Culture Amongst Youth, or SPIC MACAY, an official student organization, presents "Raga — Fall 2016 Saanjh Sitar," an Indian classical music concert. The concert will celebrate Diwali, or the Indian festival of lights, from 6-8 p.m. Oct. 29 in the K-State Student Union's Little Theatre.
The concert will feature Stephen M. Slawek, a senior disciple of Ravi Shankar, who has an international reputation as an accomplished performer on the Indian sitar.
Slawek will be accompanied by Sri Gourisankar Karmarkar on the tabla.
Karmarkar is a leading tabla maestro of the present generation. An A-grade artist of all India radio and television, Karmarkar has toured internationally for the past 24 years and has performed with many eminent musicians.
The artists will perform Hindustani classical ragas, as well as renditions of popular compositions by Shankar.
Come experience a wonderful evening of culture, music and traditions, which may be very different from your own or something rarely visited. Be thrilled by the mystical notes of the ragas and get a chance to interact with eminent artistes of Indian classical music as they encourage discussion with the audience.
SPIC MACAY is a nonprofit organization based in India with the global motive of propagating the rich cultural heritage of Indian classical music and performing arts by organizing concerts, workshops, programs of arts, yoga, classic cinema and more.