October 21, 2016
K-State faculty, future teachers host Rural Arts Day in Pratt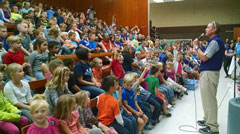 A group of K-State educators and future teachers reached for the sky by taking their expertise to Skyline Schools in Pratt, Kansas, Sept. 30 for Rural Arts Day.
The activities integrated arts into the curriculum on several levels, from writing lyrics to percussion exercises. Skyline Schools are part of USD 438, and the rural district encompasses 490 square miles.
Faculty members from the curriculum and instruction department included Todd Goodson, associate professor and chair of the department; Vicki Sherbert, assistant professor, and Lou Ann Getz, research associate. Phil Payne, assistant professor, represented K-State's School of Music, Theatre, and Dance. Five music education majors along with speech and theatre education and English education future teachers took part in this activity.
"We are grateful to Superintendent Becca Flowers and all the teachers who so graciously welcomed our group into their schools," Goodson said. "We approach this outreach with very specific outcomes in mind and were energized by what we learned and got to take back into our classrooms as well."
Payne kicked off the day with 100 high school students in the gym moving to the beat of percussion. Next, students were asked to identify traits about their school and what made it unique. They were divided into groups of 20 for more in-depth work.
Future teachers paired up and led brainstorming sessions to determine the factors that made Skyline special. The students generated lists of places, foods, traditions and activities and were challenged to create a rhythm to represent the categories. As the lesson progressed, the phrases morphed into lyrics sung to the melody of "We Will Rock You."
The groups united and practiced on stage before a performance for the entire school. A stream of 300 kindergarten through eighth graders filled the stands and Payne taught them the beat, just as he had with the high school students. Each group sang their verse with the refrain, "We are, we are Skyline."
Goodson said outreach activities like this are a priority for his department. The goals are to build relationships, partner with rural districts and provide future teachers with a forum to develop their classroom skills and techniques.
Goodson, Payne and Sherbet will share their experiences with a previous rural arts day at the National Rural Education Association meeting Oct. 21 in Columbus, Ohio. The subject of their presentation is about a university/high school partnership integrating music, writing and painting across STEM — science, technology, engineering and math — topics.