October 10, 2016
Entomology distinguished alumnus to speak Oct. 11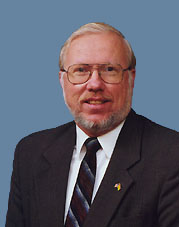 Kenneth Sorensen, selected as the 2016 Distinguished Alumnus in the entomology department, will share his perspectives on science and life at 1 p.m. Tuesday, Oct. 11, in 207 K-State Student Union. The lecture is open everyone.
Sorensen will present "Honey bees, Buffalograss webworm and Sweetpotato weevil: Efforts over 50 Years."
Sorensen received his master's degree in 1968 and his doctorate in 1970. He currently serves as emeritus professor at North Carolina State University and has had a very productive and wide-ranging career. Sorensen has worked with fruit and vegetable production in the southeastern United States, as well as improving management of vegetable pests in Central America, the Caribbean and India.
Sorensen also has worked to manage and educate growers about a variety of important invasive arthropod pests. His work has been widely recognized for its importance in promoting sustainable production practices of important vegetable pests of national and international significance.