March 30, 2012
Kemper Gallery to host exhibition 'Sustainable by Design: A Review of Native American Architecture, Art and Culture of the Southwest'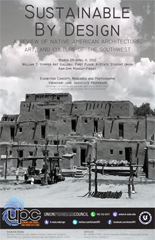 An exhibition documenting the lessons Professor Vibhavari Jani learned about sustainability and displays of her photographs, along with her research findings, are at the Kemper Art Gallery in the K-State Student Union. The exhibition was designed by two of Jani's graduate students, Bryanna McManus and Jordan Kuhlmann. The artifacts in this exhibition are from a collection of Georgia Perez, a local Native American artist and collector.
A reception will be from 4:30-6 p.m. today near the gallery. All K-State community members are invited. The exhibition will be open Monday through Friday from 8 a.m.-5 p.m. until April 11.
The concept of sustainability is not a recent invention; all ancient cultures lived by the principles of sustainability as we know it today. This is especially true for Native American cultures, where the roots of sustainability can be found in the ancient Native American thoughts.
Many Native American treaties clearly discussed humanity's role and moral responsibilities toward the living and non-living beings and promoted pro-environmental attitude. The present day cities have lost connection with nature and face many environmental problems. The modern way of life seems to take us towards the path of destruction. Can we not learn from our ancestors to live in harmony with nature and honor the needs of all living beings? This question inspired the research for of this exhibition. This examination is effected through Professor Vibhavari Jani's personal visits to various Native American archeological sites in the Southwest and evaluation of their culture and architecture through photographs and the analysis of available research materials. Jani is an associate professor of interior architecture and product design department in the College of Architecture, Planning and Design.
During her journey through the American Southwest, Jani's close examination of the innate wisdom Native Americans exhibited in the design and construction of their buildings revealed the sustainable principles and practices they incorporated and how ecology, history and construction technology shaped Native American building forms and interior environments. The review of architectural ruins uncovered significance of social and religious beliefs and how this was encoded into spatial domains became apparent while she was visiting the Chaco Canyon sites. The setting and structures of the dwellings and its connection with nature was clearly demonstrated in Acamo and Taos pueblos she visited along with many other sites, including Bandelier, Aztec and Zuni settlements in New Mexico and other sites in Colorado, and Arizona.
It was clear that the dramatic architecture of Chaco, Acoma and Taos that dazzled architects and archeologists alike, was "a tangible expression of a way of life[i]." It became evident that the Pueblo people understood the importance of the seasonal changes and developed specific architectural patterns to counter act it[ii]. It was amazing to see how native builders adapted various climates, exploited local raw materials, and created comfortable environments that were "responsive as much to the inner environment of cultural presupposition and social interaction as it is to the external environment of wind and water[iii]." Analysis of the ordered environments Native Americans created and inhibited disclosed many sustainable lessons.
---
[i] Quote by Bernard Rudovsky, an architectural historian, in Nobokov P., and Easton R., (1989). Native American Architecture. Oxford University Press, New York, NY. P. 12.
[iii] Quoted by Nobokov P., and Easton R., (1989) in Native American Architecture. Oxford University Press, New York, NY. P. 12.