September 28, 2016
K-State Alumni Association names Carl and Mary Ice grand marshals for K-State Homecoming parade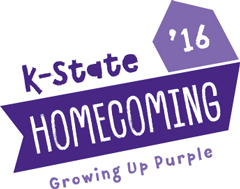 Kansas State University alumni Carl and Mary Ice are the grand marshals for the Oct. 21 K-State Homecoming Parade. The parade will begin at 5 p.m. at Manhattan Town Center and will proceed through Aggieville before ending in City Park for the homecoming pep rally.
"Being honored as grand marshals of the homecoming parade is something we will never forget," Mary Ice said. "This is an unexpected and much appreciated honor from a place we truly love. Homecoming is a great time to reconnect with the university and remember what makes K-State so special to all of us."
Native Kansans who currently live in Westlake, Texas, Carl Ice is the president and CEO of BNSF Railway and a 1979 graduate of the College of Engineering, while Mary Ice is a 1980 graduate of the College of Human Ecology. She also earned a master's degree from the College of Education in 1988. The Ices have served K-State in many areas across the university.
Together they serve on the board of trustees of the Kansas State University Foundation, as members of the Innovation and Inspiration Campaign steering committee and as committee chairs of the Wabash CannonBall North Texas gala.
Mary and Carl Ice Hall, the latest addition to the College of Human Ecology, was dedicated in 2013 in their honor. Additionally, K-State's Basketball Training Facility was renamed the Ice Family Basketball Center in 2015 in appreciation for their support of the university. Their daughter, Karen, is an attorney living in Manhattan and their son, Marshall, and their daughter-in-law, Megan, are also both K-State graduates.
Carl Ice is a member of the KSU Foundation's board of directors and also is a past chair of the College of Engineering Advisory Council and a former member of the Industrial and Manufacturing Systems Engineering Advisory Council.
"Our K-State family is very important to us and we are tremendously honored and humbled to be selected as grand marshals," Carl Ice said. "It is especially meaningful to be recognized by the students. Homecoming is certain to be a wonderful time for all of us."
Mary Ice is a member of the President's Advisory Committee on Intercollegiate Athletics and the Ahearn Fund Advisory Group. She is a former member of the K-State Alumni Association board of directors from 2010 to 2014 and also served as president of the College of Human Ecology Alumni Advisory Board.
This year's homecoming theme is "Growing Up Purple." The week marks K-State's 101st homecoming celebration. Homecoming is a universitywide celebration coordinated by the K-State Alumni Association and sponsored by AT&T.
For more information on the 2016 K-State Homecoming celebration, visit K-State.com/homecoming or call the K-State Alumni Association at 800-600-ALUM (2586).