March 28, 2012
Letter from Athletics Director John Currie regarding Frank Martin, basketball coaching search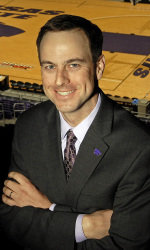 Good morning, Wildcat Nation.


Thank you for your continued support of K-State athletics and our 440 student-athletes and our 16 teams.

Yesterday, we held a news conference in the Legends Room at Bramlage Coliseum to address the status of our men's basketball program. As you are aware, Coach Martin has resigned his position as head coach.

Coach Martin's contract called for a renegotiation period to begin on April 1, but almost two months ago we offered Coach Martin the opportunity to begin discussions on a significant enhancement and extension of his contract. His decision, which we respected, was to wait until the end of the season to begin those conversations and in our frequent subsequent discussions he maintained that position. On Friday, I received a call from South Carolina AD Eric Hyman informing me of their interest in Coach Martin. Later that evening I received a request from Coach Martin indicating that his representatives had been in touch with South Carolina and he wished to speak with South Carolina and intended to take the position if offered.

Monday

afternoon Coach Martin informed me that he had accepted the position at South Carolina and was resigning his position at K-State.

We wish him the best and offer our appreciation for all he and his staff have accomplished for our basketball program, athletics department and university during his time as head coach.
As we now turn our attention to finding the next basketball coach for K-State, we indeed do so knowing that the opportunity that exists here is tremendous. I promise you that through a full national search we will find the right person to lead our basketball program. There will be no limitations placed on our search, and we will do whatever it takes to find the right fit and the right coach to continue the tradition and success of K-State Basketball.

This is a great time to be a Wildcat. Kansas State University is a special place, Manhattan is one of America's great places to live and K-State offers a terrific coaching opportunity. We have the best college president in the country, Dr. Kirk Schulz, who is leading the visionary K-State 2025 plan to elevate K-State into the ranks of the top 50 public research universities.
Not only do we have one of the top 25 programs in college basketball history, but our recent success both on the court and in the classroom has provided tremendous national exposure and also has played a pivotal role in the construction of our new $18 million Basketball Training Facility, which is scheduled to open early this summer, and a total of $100 million in overall facility improvements. Our sold-out atmosphere, created by your support, has given us one of the best college basketball environments in America, and we are extremely proud to play in the best basketball conference in the country – which will be boosted even more next year with the addition of West Virginia and TCU.

We appreciate your patience during this process. While we will work to provide periodic updates at appropriate times, there will be minimal public comment or communication in order to protect the integrity of the search.

As I discussed with our basketball team earlier, transition is part of life. I completely understand how much many of our fans appreciate Coach Martin, and I, too, share that appreciation. However, it is time to focus our energy on the future of our basketball program. Our family has found the Manhattan community to be unbelievably warm and embracing. The evident passion of the K-State Nation will play a critical role in the success of this search and the success of our next coach. I appreciate the patience of the Wildcat family as we move forward and look forward to introducing the next head coach of our men's basketball program.

We'll continue to work toward our vision of a model intercollegiate program at K-State and our five goals, including championship performances. I appreciate our tremendous fans and the commitment to excellence of our coaches and student-athletes.
Go Cats!

John Currie