September 8, 2016
Saxophone professor Anna Marie Wytko presents faculty artist recital at 7:30 p.m. today in All Faiths Chapel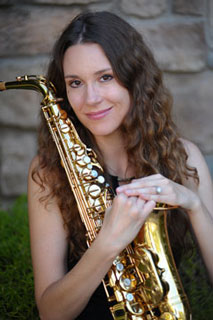 Anna Marie Wytko, associate professor of saxophone, will present a faculty artist recital at 7:30 p.m. Thursday, Sept. 8, in All Faiths Chapel.
The program will include "Into the Madness for Saxophone and Piano" by Paris composer Anthony Girard, "Bid Call for Saxophone and Cello" by award-winning American composer Libby Larsen, "Escualo — Shark for Saxophone, Cello and Piano" by Argentine tango master Astor Piazzolla, the jazz-infused "Doo-Dah for Three Saxophones" by distinguished American composer William Albright, and "Farewell for Saxophone and Piano" by noted American wind composer Warren Benson.
Wytko will be joined by faculty artists David Littrell, professor of cello and K-State orchestra conductor; and Amanda Arrington, faculty collaborative pianist. Additionally, she will be joined by saxophone graduate students John Ashburn and Michael Meier.
The recital is free and open to the public.